Castle Freak
(1995)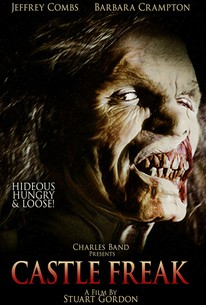 Movie Info
An American family discovers the horrific mystery that lies within a spooky Italian castle in this low-budget horror film from cult director Stuart Gordon, best known for such works as Re-Animator and From Beyond. Castle Freak reunites Gordon with Re-Animator star Jeffrey Combs, who portrays John Reilly, an American who inherits an Italian castle when a distant relative passes away. John, a recovering alcoholic, travels to Italy with his estranged wife Susan and blind daughter Rebecca. On the advice of the estate's executor, the three plan to stay at the castle until they can liquidate the estate. Little do they know, however, that a horrible, freakish monster has been kept locked away in the basement. Soon, the beast has escaped and emerges hungry for blood, leading to a series of unexplained deaths and disappearances. When the police name John their prime suspect, he must find the true murderer before he or his family becomes the next victim. Along the way, he must not only battle the creature itself but overcome demons from his own guilty past. ~ Judd Blaise, Rovi
Critic Reviews for Castle Freak
Audience Reviews for Castle Freak
If you're a fan of gore and horror, this movie is for you. The acting is better than expected. The Gore is not as robust as "From Beyond" or "Reanimator." You genuinely understand why things happen as they unfold and it works. The biggest mistake is to show the creature's face on the cover of the movie. It ruins the reveal.
Joe Papp
So-so. The characters are alright, Combs being the highlight. The story is a bit bland, but interesting. The effects are fun and gory, and the make up is gross. The pacing is a bit off, and it gets dull at points, but it's above average Full Moon quality.
Wes Shad
one can't really go wrong with Jeffery Combs, Barbara Crampton, and Stuart Gordon. A great story that does not compromise with a feel good ending. The 'monster' is best used when draped in the bloody sheet. The naked 'monster' is equally disturbing in concept, but suffers from too much latex, rain, and bright lighting. Overall, good movie.
R.John Xerxes
Castle Freak Quotes
There are no approved quotes yet for this movie.
Discussion Forum
Discuss Castle Freak on our Movie forum!