Suna no utsuwa
(1975)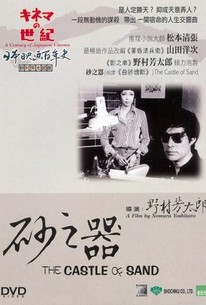 AUDIENCE SCORE
Critic Consensus: No consensus yet.
Movie Info
Yoshita Nomura's police film Suna no utsuwa concerns a number of detectives who attempt to find the person responsible for the murder of a man in a Tokyo railroad yard.
Critic Reviews for Suna no utsuwa
There are no critic reviews yet for Suna no utsuwa. Keep checking Rotten Tomatoes for updates!
Audience Reviews for Suna no utsuwa
½
Yoshitaro Nomura is not as well-known as other directors who made films for Japanese film studios like Seijun Suzuki or Kinji Fukasaku. He is known for making the suspense and mystery films and this film is cited as being one of his best. This film is reminiscient of Clint Eastwood's Million Dollar Baby because near the end the focus of the film is switched to something completely different. Though it is not at all bad, however, this film lacks a script as good as Million Dollar Baby and it is not executed in as smooth a manner. The final orchestra scene is moving and emotional, although it is overly sentimental and a bit much. The performance of the lead detective by Tetsuro Tamba is a good one. Ken Ogata also makes an appearance as does long time Ozu collaborator Chishu Ryu. This film is stylistic at certain points and even experimental. Perhaps it was just the quality of the DVD, but the print of the film seemed very gritty and raw which I really liked as well. The cinematography of the film adds a great deal. On the other hand, I felt the film was lacking in developing it's story and the discovery of certain evidence and details seemed very contrived. This is a film worth checking out though because it is ambitious and is a valiant attempt at trying to send a serious message.
½
In "Castle of Sand," detectives Imanishi(Tetsuro Tanba) and Yoshimura(Kensaku Morita) are tasked with finding the murder of a sixty-year old man found in a railway yard. This is made even harder by not even knowing who the victim is. The only clue they have is eyewitnesses' testimony of a meeting between the victim and another man in a restaurant where they were speaking a certain dialect and a single word which is possibly the name of a small village in northern Japan. But that turns out to be just another dead end. "Castle of Sand" is a methodically paced police procedural that does a very good job of exploring the minutiae of police work and its accompanying frustrations. Of course, identity is key when it comes to the victim and murderer(not to mention that of modern Japan), and their relationship makes itself clear in unexpected ways. And as talky as the film is at times, a highlight is a wordless sequence towards the end that cuts back and forth between the performance of a symphony orchestra and flashbacks. (Originally reviewed in the blog section on November 27, 2009.)
Suna no utsuwa Quotes
There are no approved quotes yet for this movie.
Discussion Forum
Discuss Suna no utsuwa on our Movie forum!