Dr. Seuss' The Cat in the Hat
(2003)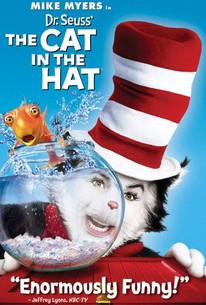 Dr. Seuss' The Cat in the Hat Photos
Movie Info
Following up on the success of 2000's How the Grinch Stole Christmas, Imagine Entertainment presents The Cat in the Hat, their second live-action adaptation of a classic Dr. Seuss book. Starring Mike Myers, the film follows the adventures of Conrad (Spencer Breslin) and Sally Walden (Dakota Fanning), a young brother and sister who find themselves visited by the titular mischievous cat (Meyers) and his entourage when their mother (Kelly Preston) leaves them home alone. Also starring Alec Baldwin and the voice of Sean Hayes, The Cat in the Hat is the directorial debut of Oscar-nominated art director Bo Welch.
People Who Like this movie also like
News & Interviews for Dr. Seuss' The Cat in the Hat
Critic Reviews for Dr. Seuss' The Cat in the Hat
Audience Reviews for Dr. Seuss' The Cat in the Hat
[img]http://images.rottentomatoes.com/images/user/icons/icon13.gif[/img]
Directors Cat
Super Reviewer
If I really had to think about it, this might very well be the worst film I've ever seen. It's not enough that it is atrociously obnoxious and annoying, but what really gets me is how badly they screwed up in adapting such a simple, classic, and straightforward story. Sure, I understand that they had to pad it out, being that it's live action and that the source material is really brief, but still...THIS is the end result?!?! The execution is just ridiculously over the top, in your face, and annoying, Mike Meyers, who is really just playing a hyper version of himself in a cat costume and makeup, makes me want to carve my eyes out with a rusty spoon. I really don't have that much problem with him in general, but he really went off the deep end here, and I have no idea what he was thinking. I really don't remember much of Alec Baldwin's performance, but I'm sure it's something he wishes wasn't on his resume. All I remember from Breslin and Fanning is that they spent a fair amount of time frowning at Meyers, as if they knew they were in a giant pile of crap. This is dumb, vile, and one of the biggest slaps to the face of Seuss and his legacy that I've seen, and that's without considering that I wasn't interested in seeing this in the first place, but just happened to because I was at school, the semester was almost over, and the teacher didn't apparently have any respect for our intelligence and thought we, a bunch of high schoolers, would enjoy watching one of her kids's movies since she apparently didn't have anything more on our level, or just didn't trust us to watch anything PG-13 or higher since her rep would be on the line. What a bunch of crap. The ONLY thing I can really give this movie in the way of a compliment is that the look is decent, and there's some okay art direction/set design, but even my enjoyment of that is sullied since it's being used in the most lazy and poor attempt to cash in on something great just ofr money. Also, the fact that some of the cast actually managed to recover from this is some sort of miracle. Avoid this one at all costs, especially if you'd prefer to have your childhood not molested.
Chris Weber
Super Reviewer
One of the biggest Hollywood tragedies of the last decade.
Dr. Seuss' The Cat in the Hat Quotes
| | |
| --- | --- |
| Sally Walden: | Stop! That's mom's dress! |
| The Cat in the Hat: | This filthy thing? |
| Sally Walden: | She was going to wear that tonight and you ruined it! |
| The Cat in the Hat: | Honey, it was ruined when she bought it. |
| | |
| --- | --- |
| The Cat in the Hat: | (Cat chops his tail) |
| The Cat in the Hat: | [cat chops his tail] |
| Sally Walden: | Um, Cat. Your tail! |
| The Cat in the Hat: | What about it? Oh I see! I chopped it off. Well that's interesting because... Son of a bi... (it goes to the technical difficulties screen) |
| The Cat in the Hat: | What about it? Oh I see! I chopped it off. Well that's interesting because... Son of a bi... [it goes to the technical difficulties screen] |