Cat Run
(2011)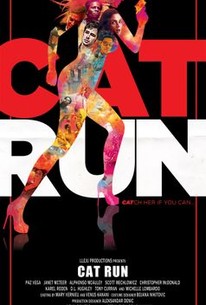 Movie Info
Anthony always dreamed of being a famous chef. Julian only thought about women. With neither really working out, the childhood best friends decide to start a detective agency. Unfortunately for them, on their first case they must help protect a sexy, high class escort who holds the key evidence to a scandalous cover up. The two bumbling detectives soon find themselves running from the mob, a corrupt US Senator, and a ruthless Mary Poppins-like assassin - all of whom would stop at nothing to hide the truth. It's just an average day for two bumbling losers. -- (c) Lleju
Rating:
R (for strong, bloody violence, sexual content, nudity and language)
Genre:
, ,
Directed By:
Written By:
In Theaters:
On DVD:
Runtime:
Studio:
News & Interviews for Cat Run
Critic Reviews for Cat Run
Audience Reviews for Cat Run
Excuse me miss, but could you steal someone else's car? Cat is a high end escort who gets caught in the middle of a political scandal overseas involving an American senator. During her escape process, she stumbles across two European entrepreneurs and uses them to get away. She doesn't anticipate the entrepreneurs starting their own detective agency and using their encounter with her as their first case. Can the two detectives save her? "Do you girls know each other?" "No." "You soon will." John Stockwell, director of Under Cover, Blue Crush, Turistas, Middle of Nowhere, Dark tide, Dark Tide, and Kid Cannabis, delivers Cat Run (and the upcoming Cat Run 2). The storyline for this picture was actually entertaining and the dialogue was comical and well written. The action scenes were well delivered but the sex was a bit overdone. The cast delivers above average performances and includes Paz Vega, Janet Mc Teer, D. L. Hughley, Tony Curran, Christopher McDonald and Michelle Lombardo. "Looking at her beasts, I'm thinking milk." "You do? I look at her titties and think half and half." I actually came across this film on Netflix and thought the plot sounded worthwhile (and the Netflix rating was higher than I anticipated). I found the characters very humorous and well written and I would definitely watch the sequel. This is a solid action picture with a decent plot, but not overly unique, and mediocre dialogue. I'd watch this once if you haven't seen it. "What kind of person does that, cut a one armed man's arm off?" Grade: C+
Kevin Robbins
When Julian(Alphonso McAuley) and Anthony(Scott Mechlowicz) open a private detective business in Montenegro of all places, their first case turns out to be trying to find Catalina(Paz Vega) who also just happened to steal Julian's cell phone and Anthony's car and is now having a lot of trouble trying to get out of the country. She is also the last survivor of a massacre wherein she absconded with a hard drive that Carver(Karel Roden) desperately wants back. So, he sends Helen Bingham(Janet McTeer) to get it back for him. "Cat Run" is a fairly entertaining comic thriller with a very high body count and delusions of a sociopolitical statement. As such, there is nothing here that we have not seen many times before, especially in its convoluted plot. Well, there is the terrific Janet McTeer taking the movie and running with it in a change of pace role as far as it will go. That's got to be worth something, right?
½
What a waste of time! I watched this movie manly because it was made in Montenegro and I am familiar with most of the places there... but I can tell you that it's not worth spending more than five minutes watching it - at the beginning... if you like naked girls scenes (actually even those girls were not very classy). Having cravings for a movie with gaping holes in a plot, soft porn, stupidity, old Eastern European cars, worst of the European, American and Balkan actors, lots of violence and blood - this is your film!