Caught in the Draft
(1939)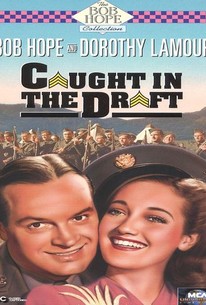 AUDIENCE SCORE
Critic Consensus: No consensus yet.
Caught in the Draft Videos
Caught in the Draft Photos
Movie Info
Bob Hope plays a famous movie star who does his best to avoid the pre-war draft, but ends up in uniform all the same. Hope marries Dorothy Lamour, the daughter of Army colonel Clarence Kolb, in hopes that this union will help him sidestep military service. Stuck in boot camp, Hope is a class-A screw-up until redeeming himself during a sham battle--though his "heroic" commandeering of a tank began as yet another boo-boo. Still not entirely certain that Hope could carry a film by himself, Paramount teamed him with Eddie Bracken and Lynne Overman--a sort of Abbott and Costello plus One. Despite the efforts to make Bob Hope part of an ensemble, it is clear from the first frame to the last who is truly the star of Caught in the Draft.
Critic Reviews for Caught in the Draft
All Critics (1) | Fresh (1) | Rotten (0)
Released just months prior to the US entry into WWII, this comedy offers Bob Hope one of his funniest roles.

Audience Reviews for Caught in the Draft
½
BOB HOPE AT HIS BEST, HYSTERICALLY FUNNY, MANY MANY WONDERFUL SCENES. THOROUGHLY ENJOYABLE. GREAT FUN.
James Higgins
½
Full of chuckles and outright laughs. This is b&w film I never knew about and strange it was released in 1941. When we think every male was patriotic at the time, not Bob Hope in this one. To the contrary, he plays a movie star who is all coward all the time. He regrets he has no health problems. "Don Bolton (played by Bob Hope) is a famous Hollywood star who tries to get married in order to avoid the draft, as he feels it will interfere with his career. He falls for Antoinette, a colonel's daughter (played by Dorothy Lamour) and in an attempt to impress her he pretends to enlist in the army, though it turns out that he has in fact enlisted for the real thing, along with his agent and assistant. Bolton is keen to impress both Antoinette and her father during training, however his skills as a soldier prove to be abysmal."--- Wikipedia [img]http://upload.wikimedia.org/wikipedia/en/thumb/d/dc/Caught-in-the-Draft.jpg/220px-Caught-in-the-Draft.jpg[/img] SEE the whole film here: http://www.youtube.com/watch?v=brOcsUHB9Mk Afraid of the impending draft movement by Congress, he aims to get a bride before the law is passed. Being married was a way to avoid serving in the impending war. [img]http://t1.gstatic.com/images?q=tbn:ANd9GcRAMtoFFZ5-aVGYWv9HfEUSR3vOEW08XbucZDx7DkBnlF47pNkG[/img] If you care for the humor of Bob Hope at all, you could do worse. Oddly, Hope was feared unable to carry a film mostly by himself so the studio put in known names to support him. [img]http://t0.gstatic.com/images?q=tbn:ANd9GcRNR1qpZ0C3V_QcI5uQCg0oH3XwFbA3r5FQC8-qeSeptQmTf4KkIA[/img] Cast Bob Hope - Don Bolton Dorothy Lamour - Antoinette 'Tony' Fairbanks Lynne Overman - Steve Riggs Eddie Bracken - Bert Sparks Clarence Kolb - Col. Peter Fairbanks Paul Hurst - Sgt. Burns Ferike Boros - Yetta Phyllis Ruth - Margie Irving Bacon - Cogswell Arthur Loft - Movie director Edgar Dearing - Recruiting sergeant Directed by David Butler Produced by Buddy G. DeSylva Written by Wilkie C. Mahoney Harry Tugend Distributed by Paramount Pictures (USA) Release date(s) July 4, 1941 Running time 82 min Language English
monsieur rick
Caught in the Draft Quotes
There are no approved quotes yet for this movie.
Discussion Forum
Discuss Caught in the Draft on our Movie forum!