Cause for Alarm
(1951)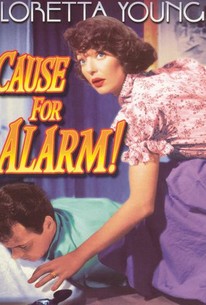 AUDIENCE SCORE
Critic Consensus: No consensus yet.
Movie Info
While recuperating from a heart-attack, a husband obsesses that his wife and his doctor are having an affair and writes to the D.A. accusing the two of trying murder him. When he dies of a second attack, the innocent wife frantically attempts to intercept the letter to the D.A.
Audience Reviews for Cause for Alarm
Cause for Alarm should be better titled "Trapped". While suspenseful in the last half of the film, in the first half we have to endure a horrible marriage between bed ridden Barry Sullivan and his love struck wife Loretta Young. [img]https://encrypted-tbn0.gstatic.com/images?q=tbn:ANd9GcQAESJ9m5wxKbSrpkvFeDttam6BybrYtwBK74RncjrgsMdDbzPLlA[/img] see the film at: https://www.youtube.com/watch?v=f9PoG_kaT-g Suspense filled drama about jealousy, old flames (ex-lovers) and an awful lot of bad luck for the lead actress Young. Barry Sullivan lies in bed the entire film, a paranoid heart attack victim, verbally abusing the living hell out of his wife, Loretta Young. This film traces the WWII era romances of Loretta Young with two men to present day suburbia. [img]http://i1.ytimg.com/vi/Fe8c-3MAv7c/hqdefault.jpg[/img] About the title: Cause for Alarm seems a such weak title to describe a tale of intense jealousy, suspicion, and unwarrented paranoia. A couple of things this film will do to you. It will cause you to possibly laugh at the lengths Young tries to conceal the fate of her insufferable husband Sullivan. The tension escalates as a very tolerant, faithful and loving wife Young feels trapped by a letter sent by her husband Sullivan, to the District Attorney. Sullivan feels he is being killed off by Young and her former WWII flame, a doctor that resides rather co-incidentally in their town. [img]http://www.movieposter.com/posters/archive/main/139/MPW-69987[/img] The child actor Hoppy proves unbearable after a while as he is injected into the tale as a welcome relief to the child adoring Young, but later he becomes annoying and a problem for her. He becomes a unwelcome pest for us as well and makes a final appearance at the very end as "The End" appears across the screen. Interesting to see him roll his tricycle into the ending credits. Loretta Young gives a great performance of a normal, caring housewife that becomes a paranoid wreck by film's end. Barry Sullivan, her bed trapped husband exaggerates his illness to hide his paranoia about the whereabouts and suspected ill intents of his wife. He reveals his sick, selfish personality by retelling of a gift from his admired aunt, only to break it rather than give it over to a friend. He vows to do the same to his wife. [img]http://upload.wikimedia.org/wikipedia/commons/thumb/a/a2/Cause_For_Alarm!.JPG/220px-Cause_For_Alarm!.JPG[/img] REVIEWS from those like us: 90% Cause for Alarm is an amazing film. It is about Mr. Jones who is a invalid husband that wrongly thinks his wife and doctor are conspiring to kill him ... More 70% If one can tolerate the time in which it was made when their were no cell... NOTES about the film: 1 Young's performance in the film was praised by both Time Magazine and the New York Times when it was released in 1951. 2 The film's producer Tom Lewis considered Judy Garland for the lead role before giving it to his wife Loretta Young. 3 Irving Bacon (a character actor who appeared in over 400 films during his career) was already widely known as the weary postman in the popular Blondie series of 28 films a decade earlier when he was cast as the postman chased by Ellen. Bacon played the nutty chauffer in Holiday Inn with Bing Crosby and Fred Astaire. 4 Music composer Andre Previn became the era's premier soundtrack director of the time. 5 Director Garnett also known for: The Postman Always Rings Twice (1946) · Wild Harvest (1947) · A Connecticut Yankee in King Arthur's Court (1949) 6 The lingering suspicion that perhaps the husband was absolutely correct and not paranoid would be a great twist, but we have no real evidence to support that theory. By all evidence however the doctor (an old flame of Young's) and Young herself are as pure as the driven snow. Young was no doubt infatuated with her husband Sullivan, odd because their initial meeting ended hostile and the stuff of far fetched romance novels to see otherwise. [img]https://www.movieposter.com/posters/archive/main/18/MPW-9155[/img] Other professional reviews of the film: 1 "The suspense, under Director Tay Garnett, mounts steadily, almost unbearably, until a final plot twist so original that it's almost a swindle."-- NY Times 2 Time magazine characterized the film "as the year's first thriller with an honest quota of thrills. It pulls off the old Hitchcock trick of giving commonplace people, events and settings a sinister meaning, and it develops its simple, one-track idea with frightening logic." 3 Sean Axmaker calls Cause for Alarm "An unusual entry into the film noir school of paranoia" which "...trades the dark alleys and long shadows of urban menace for the sunny, tree-lined streets of middle-class domesticity" whilst noting, "Young's deadened narration adds an eerie mood of doom to the suburban setting." Cast Loretta Young as Ellen Jones Barry Sullivan as George Z. Jones Bruce Cowling as Dr. Ranney Grahame Margalo Gillmore as aunt Clara Edwards Bradley Mora as Hoppy (Billy) Irving Bacon as Joe Carston, the postman Georgia Backus as Mrs. Warren, the neighbor Don Haggerty as Mr. Russell, the notary Art Baker as the post office superintendent [img]https://encrypted-tbn3.gstatic.com/images?q=tbn:ANd9GcQYG8PO0-6hafP2wlOMa_XU02o-4MxulAaI111TiO-zvNp-uCVqrQ[/img] Directed by Tay Garnett Produced by Tom Lewis Screenplay by Mel Dinelli Tom Lewis Story by Larry Marcus Music by André Previn Cinematography Joseph Ruttenberg Editing by James E. Newcom Distributed by Metro-Goldwyn-Mayer Release date(s) March 30, 1951 (New York City, U.S.A.) Running time 74 minutes See the film at: https://www.youtube.com/watch?v=f9PoG_kaT-g [img]https://encrypted-tbn0.gstatic.com/images?q=tbn:ANd9GcR93Z_I_r4QEJNDxU1EuWvEtnZrY2lS9hUQSLtq26P0L1QU3BMp[/img]
monsieur rick
½
This is a brilliant suspense film, Young gives a fantastic performance as a wife who doesn't want to be suspected for murdering her husband. Great story, I loved it.
½
High strung melodrama with Loretta at a fever pitch almost the whole way through. Plays more like an extended episode from an old anthology series than a feature and a rather nonsensical one at that.
Cause for Alarm Quotes
There are no approved quotes yet for this movie.
Discussion Forum
Discuss Cause for Alarm on our Movie forum!