Cautiva
(2006)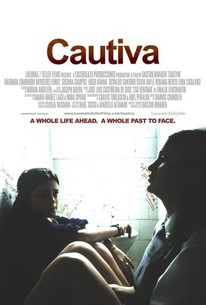 Movie Info
The film tells the story of Cristina, a typical Argentine teenager. Her life is suddenly uprooted when she is plucked out of class at the summons of a judge and the couple she knows as her parents are revealed to not be so. In the early '80s, her biological parents were "disappeared" for criticizing the military junta which had taken power in a coup. Surviving relatives of her biological parents, including Cristina's grandmother, have spent years trying to track down the child. Ordered to now live with her biological family since her adoption--or appropriation, as it is chillingly called--had no legal basis, Cristina begins an investigation of her own in order to find out the truth.
News & Interviews for Cautiva
Critic Reviews for Cautiva
Audience Reviews for Cautiva
great movie about argentina's "disappeared" and the fallout from the last dictatorship there in the late seventies.
Gregory Wood
This was a stunner of a movie! Interesting in a historical and political sense. I thought the ending music and shot of the stars was a lovely note to end on. A very touching film. The young actress, Barbara Lombardo, who plays the teen, does an excellent job. The director deserves credit for a clearly presented story. Seemingly very realistic portrayal of a tragic part of Argentina's past. Worth seeing.
Bruno Lot
½
I speak Spanish pretty well I have been to Mexico 25 times over the last 30 years so I keep my Spanish up I watch a lot of movies from Spain Mexico and Argentina. Not that many really 3 and 4 star movies have come from Argentina the Latin speaking country with history of economic failure and dictatorships. I had seen the Jack Lemmon Costa Gravis Movie "Missing" I forget what the date was in the late 80s and early 90s word started being circulated about the "Disappeared" persons of Argentina. Cautiva is a must see "not to be missed" movie about this type of thing and Argentinian past. Christina at young girl who just had her quincinera is taken from her family by the Argentinian justice and give to her real grandmother. Both here parents were kidnapped and murdered. The Argentenian state was organized during the military regime by The National Reorganization Process (in Spanish, Proceso de Reorganización Nacional, often simply El Proceso) which the name used by its leaders for the military government that ruled Argentina from 1976 to 1983 as a criminal enterprise. These dictators were supported by the US Foreign Policy and the CIA. Cautiva is a shocking and powerful movie about one young woman's search for the truth. 30000 to 50000 people were "Disappeared" All interested in truth liberty justice and ending humans rights violations should watch this emotional movie. five stars
ld pierce
Cautiva Quotes
There are no approved quotes yet for this movie.
Discussion Forum
Discuss Cautiva on our Movie forum!