CBGB
(2013)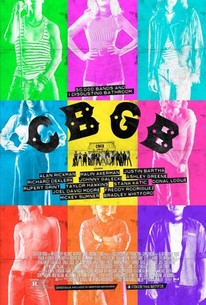 Movie Info
SYNOPSIS: CBGB looks at New York's dynamic punk rock scene through the lens of the ground-breaking Lower East Side club started by eccentric Hilly Kristal in 1973 originally as a home for "country, bluegrass and blues" (thus the club's name) and which showcased cutting-edge bands through its closing in 2006. The Talking Heads, Patti Smith, The Ramones, Blondie, The Dead Boys, Bad Brains, Green Day, Soul Asylum, The Police, Bruce Springsteen, Everclear, George Thorogood, The Velvet Underground, Sonic Youth, The Black Crowes, The Flaming Lips, The Goo Goo Dolls, The Red Hot Chili Peppers, The B-52s, The Runaways, Tom Petty & The Heartbreakers, Tool and The Wallflowers are just some of the thousands of bands that played the club over the years. (c) XLRator
News & Interviews for CBGB
Audience Reviews for CBGB
The film was a disappointment. I thought from the trailer that the film would be good, but I was wrong. I didn't like the style of the film. The style tried to make it like a comic book/graphic novel style of transitions. I found that style distracting here. I would have rather watched a documentary about CBGB. Alan Rickman did a good job, given what he had to work with.
50,000 bands and 1 disgusting bathroom. Very Good Film! The story, the texture, the music all lifted me into a different world. The cuts between this punk magazine and this story amazed me as they worked. The music is a dream collection and the quirky story of the accidental birth of this genre of music made me smile end to end. Overall I really enjoyed the movie personally... but I didn't have high expectations on what it was going to be either. CBGB follows the story of Hilly Kristal's New York club from its conceit as a venue for Country, Bluegrass and Blues (CBGB) to what it ultimately became: the birthplace of underground rock 'n roll and punk. When Kristal had difficulty booking country bands in his club on the Bowery he opened his doors to other kinds of rock music. Kristal had one demand of the acts he booked; they could only play original music. No top 40's, no covers. It was the credo he lived by, support the artist at whatever the cost. Hilly Kristal ironically became known as the godfather of punk giving a chance to such bands as Blondie, Television, Ramones, Talking Heads, Dead Boys and The Police.
½
"Rock of Ages: Before the Glam"! No, people, this type of film is quite a ways away from being something like "Rock of Ages", but the idea of a period piece about a prominent rock music club is close enough to make the handful of people who know about "CBGB" get the "heebie-jeebies". ...Why, yes, people, I did just pull something that cheesy, but settle down, because I wasn't the first jerk to come up with that, with the first being Steven Lee Beeber through his book "The [u]Heebie-Jeebies[/u] at CBGB's: A History of Jewish Punk". I guess someone with a last named that is pronounced the same as "Bieber" can discuss music for only so long before getting cheesy, even if the topic that is up for discussion is the underground punk rock scene, which is cool... if a little bit lacking in terms of quality standards. Don't get me wrong, I like to punk out on more than a few occasions, but it's interesting to look back at a time in which the talent was getting commercial promotion, because in this day and age, you have to go either underground or, well, bona fide prog-rock to find real quality music, though not necessarily quality film. Hey, I like this film just fine, but hardly enough people are seeing it for it to be considered beyond underground, and what handful of people who are seeing it aren't particularly crazy about it. I can't say I can fully blame the critics, because even though, like I said, I like this film alright, it has more than just some decent, if annoying punk rock classics to give you (Yes, I'm going to say it again) "heebie-jeebies" (There). I suppose this relatively light historical piece is far from generic, but its subject matters makes for a familiar story concept, whose interpretation is also trope-heavy, with some refreshing elements that may very well have been underexplored for a reason. The film is pretty stylish, with some snappy post-production tricks and whatnot which liven things up, but are overplayed, to the point of eventually distancing you from substance about as much as storytelling's taking only so much time to focus on fleshing things out. Whether it be because of the abuse of the lively style, or simply because exposition finds itself thrown into a hurry on more than a few occasions, there is a sense of freneticism to pacing that wears you down after a while, until it is jarringly broken by, of all things, dragging. The pacing inconsistencies go bookended by the freneticism as well as dragging, which gets to be at its worst once the film reaches a body that is tainted by near-exhaustingly aimless filler that plagues the narrative with repetition which eventually devolves into monotony as directorial atmosphere grows cold. When Randall Miller's direction isn't getting carried away with style, it has a dry distance to it that blands things up, and would dull things down if it wasn't for the colorful soundtrack and writing. Such atmospheric stiffness joins with uneven structural pacing until the final product feels utterly aimless, and such an unfortunate formula does heavy damage to a film that arguably barely comes up with enough engaging aspects to transcend mediocrity. Nevertheless, the fact of the matter is that mediocrity is transcended, because if you're willing to run with a film this overtly stylish and incoherent in its pacing, you can expect plenty of decent liveliness, particularly in style. Again, the film's style is pretty frantic, but it's also refreshingly nifty, offering anything from editing snaps to comic panel and onomatopoeia bounces that Randall Miller, as director, utilized well enough to sustain a degree of entertainment value, kept up after style dies down by directorial plays on music. A celebration of the '70s underground rock scene that showcases the early stages of new wave and, of course, punk rock, this film has a soundtrack whose standards aren't as high as other music-driven '70s homages' soundtracks, but is still a dynamic showcase of entertaining underground classics. The soundtrack is prominent throughout the film, whose cold spells are serious to point of threatening mediocrity, or at least dullness, kept at bay largely by groovy tunes, as well as some subject matter intrigue. This is a traditional tale that goes interpreted unevenly and formulaically, but it remains an interesting story about the humble beginnings of the underground rock movement through the guidance of bum-turned-visionary Hilly Krystal, with a certain color that the script emulates more sharply than the often cold direction by Miller. Granted, Miller's and Jody Savin's writing goes plagued pretty heavily by uneven structural pacing, but it is still not too shabby, charged by sharp dialogue and sometimes mightily amusing humor, in addition to characterization that presents music legends pretty distinctly. The performances further distinguish this the portrayals of notable figures in this film, which delivers on plenty of neat cameos and supporting performances by recognizable talents who nail the recognizable figures, while leading man Alan Rickman more-or-less carries things with his trademark dry, soft-spoken charisma, which captures the mysterious madness and cleverness of Hilly Krystal. There's plenty to complain about with this film, but there's also plenty to compliment, if not, well, praise, and while I wish there was a bit more consistency to the realization of this promising project, there's enough entertainment value and charm to make the final product an endearing, if overblown one. Overall, conventional, overstylized and unevenly paced storytelling, backed by some atmospheric coldness, render the final product undercooked, unfocused and all around decidedly underwhelming, but lively style, a strong soundtrack, a clever script and plenty of colorful performances drive enough intrigue and entertainment value to make "CBGB" a messy, yet ultimately decent dramatization of the rise of the underground rock era of the mid-1970s. 2.5/5 - Fair
Cameron Johnson
Super Reviewer
CBGB Quotes
| | |
| --- | --- |
| Genya Ravan: | What part of Cleveland are you from? Cleveland, Germany?? |
| Genya Ravan: | What part of Cleveland are you from? Cleveland, Germany? |
Discussion Forum
Discuss CBGB on our Movie forum!