Cello (Chello hongmijoo ilga salinsagan)
(2005)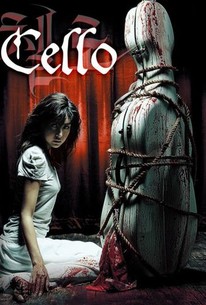 AUDIENCE SCORE
Critic Consensus: No consensus yet.
Cello (Chello hongmijoo ilga salinsagan) Photos
Movie Info
A beautiful cellist attempting to regain stability after surviving a car accident that claimed the life of her best friend finds that her troubles have only begun when her personal life takes an ominous turn for the worse in director Lee Woo-cheol's harrowing tale of psychological horror. Physically bruised and mentally scarred, there's nothing that Mi-ju (Seong Hyeon-ah) wants more out of life than to let her recently departed friend rest in peace and heal from the pain of her past. When the memories of the accident become too powerful to bear and Mi-ju decides to forego her professional music career in favor of teaching cello to both her daughter and the students at a nearby university, the horrors of her past prove nothing compared to the terror that slowly begins seeping into every aspect of her quiet existence. As the music that drifts from her daughter's instrument begins to take on an ever more grim and unearthly quality, Mi-ju attempts to maintain some semblance of sanity after being attacked by a vicious student, trying to make sense of her sister-in-law's dangerous obsession with her fiancé, and struggling to pinpoint just what it is about her new housekeeper that makes her so uneasy at times.
Critic Reviews for Cello (Chello hongmijoo ilga salinsagan)
Audience Reviews for Cello (Chello hongmijoo ilga salinsagan)
½
Cello is an atmospheric, emotionally-driven psychological horror/drama from South Korea. It's basically about a woman with traumatic events in her past that come back to haunt her and her family. I call it a horror/drama because it has its frightening moments, but a large part of the movie is devoted to the relationships between the main character, Mi-ju and her autistic daughter, and the past relationship of Mi-ju and her very close friend, Tae-Yeon. I found myself caring a lot more about the characters (and any potential danger to them) in Cello more than I usually do in horror movies, because so much time was devoted to developing them as people and not just kill-fodder. There are so truly horrifying moments in this movie, which gives it a heft and impact that goes beyond just visceral thrills. Cello is a very sad film, and that wouldn't have worked at all without characters that you actually care about. It's not hard to figure out what's going on with the story, as Mi-ju seeming falls prey to either a malevolent ghostly presence or her own crumbling mind, but fortunately the plot throws enough curves to keep even veterans of the genre from being able to predict everything that's going to happen. Put plainly, I liked Cello. It was somewhat different from the recent horror movies I've seen, and undeniably well-made. I recommend it.
Slow-moving Korean horror/melodrama with another pissed-off ghost out for revenge at the centre of the story. Not bad, but just not scary or lively enough early-on. It develops an unsettling atmosphere and some well staged death scenes, some bloody too. Worth a look for lovers of Asian horror but it is similar in style and plot to others out there.
½
Hugely disappointing, very slow moving which was felt throughout, it may have some originality to it, but it was very dull.
Lady D'arbanville
Super Reviewer
Cello (Chello hongmijoo ilga salinsagan) Quotes
There are no approved quotes yet for this movie.