Cet Amour-La
(2003)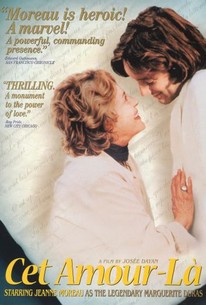 Movie Info
In the later years of her life, French author Marguerite Duras lives in a self-destructive haze, plagued by writer's block and the physical effects of alcoholism. She shuts herself off from the world, until Yann Andrea, a man thirty-six years her junior, pays her a visit, and soon, the two commence a passionate affair.
Rating:
R (for language)
Genre:
,
Directed By:
Written By:
In Theaters:
On DVD:
Runtime:
Studio:
Critic Reviews for Cet Amour-La
Audience Reviews for Cet Amour-La
½
[center][img]http://img437.imageshack.us/img437/9107/cetamour7si.jpg[/img][/center] (DVD) (First Viewing, 1st Dayan film) Sometimes I honestly wonder why I still watch movies. And I think this film is a good demonstration of why I do—to discover films like this one. The cover art on the DVD looks banal and trite, but the film it contains is magical, haunting—the kind of film that wraps around you like a blanket while you're not paying attention. I was drawn in by the premise: a look at the tender, tortured relationship between Marguerite Duras, one of greatest writers of the 20th centuries and a great favorite of mine, and Yann Andrea Steiner, a young man with whose support during the last 16 years of her life she wrote many of her most famous novels, including her most important contribution to literature: the lyrical [I]L'Amant.[/I] On its surface, CET AMOUR-LA falls into that category I call "barely a wisp of a film"—a film so delicate, muted and intentionally limited in scope that it seems capable of dissolving into nothingness at any given moment. But hidden beneath this seemingly ephemeral surface a sea of raw emotions brewing, capable of exploding at any moment. The film intentionally avoids these moments—in fact, most of the major events of the story are implied, for to Duras, events aren't meant to written as if to be re-experienced, they are something to be looked back on in reflection, leading to a deeper awareness of both the senses and the self. And that's what this film attempts to do—to try and relate a story not by what it is or what it was, but by what it [I]means[/I]. This approach is tremendously risky and almost impossible to translate into visual terms (Duras herself may have been the only one to successfully pull this off in the cinematic medium through her own highly experimental films, namely [URL=http://www.rottentomatoes.com/vine/journal_view.php?journalid=29715&entryid=119979&view=public]INDIA SONG[/URL] and [URL=http://www.rottentomatoes.com/vine/journal_view.php?journalid=29715&entryid=120738&view=public]LA NAVIRE NIGHT[/URL]). As unexceptional as it might seem on the surface, CET AMOUR-LA is an incredibly brave film that dares to tell Duras's story in a manner in which she would have wanted it to be told. For many viewers, Jeanne Moreau, who plays Duras, will be the main draw of the film. And she's exceptional. Echoing [URL=http://www.rottentomatoes.com/vine/journal_view.php?journalid=175167&entryid=309915&view=public]the opening line of [i]L'Amant[/i][/URL], with her ravaged face, the ravaged voice, Moreau is a living, breathing embodiment of the ravages of time, and it makes her perfect for this role. Yet still I find it impossible to exactly what exactly it was about CET AMOUR-LA that impressed me so much, and moved me deeper than I had initially expected. It might be a "little wisp of a film," but sometimes a feather-touch can yield more impact than a direct blow to the head. Or sometimes, as in this situation, a feather-touch [I]is[/I] a blow to the head.
Jesse Last
Cet Amour-La Quotes
There are no approved quotes yet for this movie.
Discussion Forum
Discuss Cet Amour-La on our Movie forum!