Chained Heat
(1983)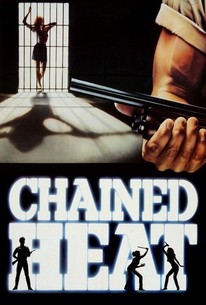 Movie Info
Carol (Linda Blair) is sexually exploited both by the authorities and by the inmates during her 18-month stay in prison, in this "B"-grade softcore film with touches of violence throughout. Two female leaders of the prisoners, Ericka (Sybil Danning) and Duchess (Tamara Dobson), are at each other's throats, a prurient warden (John Vernon) has a hot tub next to his desk, his corrupt assistant Taylor (Stella Stevens) runs a drugs and prostitution ring, and to make matters confusing, Taylor's lover is having an affair with Ericka. No wonder there is a prison breakout; everyone needed fresh air.
Critic Reviews for Chained Heat
Audience Reviews for Chained Heat
Finally gave it a spin off the To-Watch Pile and I have to say that it was as much sleazy exploitation fun as you'd expect. Linda Blair's sleazy output from around this time period is a lot of fun, and this is a very typical Women In Prison outing, so you know exactly what you're in for from the first frame. Rental!
Bill Bryant
I love the WIP genre, and this is the best example. The Big Doll House is great, Caged Heat is a classic, and I really liked the excesses of Sadomania and Ilsa: the Wicked Warden, but Chained Heat is just sublime. Linda Blair, Sybil Danning, Stella Stevens, Tamara Dobson aka Cleopatra Jones, Monique Gabrielle...there's more scenery chewing, beautiful T & A, gore, and just general badassery per minute than any of the previous examples. There's also sleaze, drug use, sadism, and a knife fight between Danning and Dobson: this last is a showdown between the toughest white and black woman in the joint, so it's a good one. John Vernon (the dean from Animal House) is the warden who dishes out powdered dope treats in exchange for hot tub sex. It's as if the director, writer, and actors said, "Let's give the drive-in audience exactly what they paid for, and just deliver a hot, sleazy, kick ass, fun movie!" Anyone who thinks most movies today are entertaining should 1) have their head examined, then 2) watch this and realize that most movies are about as fun as watching a less-involving-than-average video game. 46% liking this one on Flixster makes me realize that I'm probably wasting my time here, if you like exploitation movies, you're OK - if you're not go join the other 54% watching American Idol you lame f**k.
B-Movie Nightmares
½
One of the more popular WIP titles and lives up to the reputation. Babyfaced Exorcist star Linda Blair bares her pendulous papayas in prison, is accosted by lezzie inmate Sybil Danning, John Vernon hams it up as the degenerate, corrupt warden, while the gorgeous Monique Gabrielle trades her sugar for smack. What more could you want in a 1983 exploitation flick?
Doctor Strangeblog
Super Reviewer
Chained Heat Quotes
There are no approved quotes yet for this movie.
Discussion Forum
Discuss Chained Heat on our Movie forum!