Chainsaw Sally
(2004)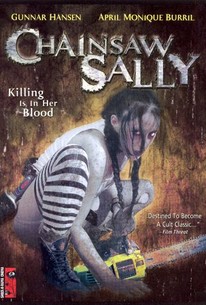 AUDIENCE SCORE
Critic Consensus: No consensus yet.
Movie Info
An outwardly timid, small-town librarian who was forced to watch as her parents were brutally butchered sets out to punish the murderers responsible for the heinous crime in a blood-drenched tale of revenge featuring appearances by horror legends Gunnar Hansen and Herschell Gordon Lewis. Sally Diamon was just ten years old when her parents were slaughtered right before her very eyes, and to this day she can still hear them screaming when she lies down to sleep. In the wake of that gruesome crime Sally was forced to raise her younger brother to the best of her abilities. These days the locals around Porterville know Sally as a quiet and considerate girl, but what do the locals know? When the sun sets over Porterville the girl who seems so well-mannered during the daytime hours basks in grisly images of torture and violence - longing for the day that she will tear at the flesh of the men who took her parents. It seems that with each passing day the fire in Sally's eyes grows brighter and more intense. Tonight, under the shroud of darkness, the young girl will finally give in to the bloodlust that has threatened to consume her body and soul as she sets out to rid Porterville of evil by acting as judge, jury, and sadistic executioner.
Rating:
R
Genre:
,
On DVD:
Runtime:
Critic Reviews for Chainsaw Sally
All Critics (1) | Fresh (1) | Rotten (0)
An admirable low budget start to a decent series of films that would spotlight the lovely Chainsaw Sally.

Audience Reviews for Chainsaw Sally
Chainsaw Sally (Jimmyo Burril, 2004) Man, I should have loved this movie. I should have loved everything about it. I mean, come on-it's a SEXY LIBRARIAN SERIAL KILLER MOVIE. This is one of those concepts that's so ridiculously amazing that I can't believe no one thought of it before this. And yet, as far as I can tell, Chainsaw Sally is the first, and only, sexy librarian serial killer movie. What a terrible, terrible thing that is; someone could really make a good one, if they set their mind to it, came up with a killer script, and cast the right folks. All things that Jimmyo Burril seems to have overlooked in this attempt. Plot: do you need a plot? Sally (April Monique Burril) is a quiet, timid, bespectacled... oh, stereotypical... librarian with a secret: she's severely emotionally damaged, thanks to witnessing the brutal murders of her parents. And in lieu of therapy, she's come up with an alternative means of treatment: attempting to track down the murderers and introduce them to her chainsaw-themed brand of justice. Meanwhile, she's taken it upon herself to raise her younger brother, who if anything is even more messed up than she is... The movie has any number of problems that keep it from being watchable, most of the big ones mentioned in the first paragraph, but the movie's biggest shortcoming is that Burril never seems quite sure whether he wants to play the movie straight or for laughs. The compromise is that he switches between the two on a frequent basis. When done correctly, and on a much more limited basis, this can work (The Evil Dead being the classic example), but it's far too frequent here to have (what I assume is) the intended effect, leaving us with heads spinning, and not in the good way. While it's developed something of a cult following, this is one you can safely give a miss. *
Robert Beveridge
½
Chainsaw Sally is about a young brother and sister who, after being traumatized by watching their parents be viciously murdered by home intruders, grow up to be sadistic killers who cut up any of the townsfolk who cross them. It's mostly the sister Sally (April Monique Burril in a non-nudity role unfortunately) doing all the killing at night but pretending to be mild-mannered librarian by day. She catches wind of wealthy man Mark Redfield coming to town to potentially sell her land to real estate developers, but they may never make that deal once she starts revving up her chainsaw. Completely ludicrous and unfunny film that attempts to be edgy and references a lot of superior films, but mostly comes up empty-handed. To give the movie some credit, it starts off really bad, but once you get used to it, it starts to be an engaging film with a couple of good violent and gory scenes, but then it tries to do a grim, unhappy ending that just does NOT work for me. With all of the inconsistencies, evidence, and high grade lawyers the wealthy guy would have used, there's NO way he would have ended up in the predicament he winds up in! Just implausible, much like this film. Had its moments, but mostly a letdown.
Jason Duron
½
Decades from now, people are going to love this movie and movies like this the same way I, and other like me love low budget exploitation/horror/the like from decades before.
Patrick Dolan
Super Reviewer
Chainsaw Sally Quotes
There are no approved quotes yet for this movie.
Discussion Forum
Discuss Chainsaw Sally on our Movie forum!