Chandni Chowk To China
(2009)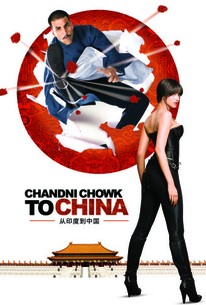 Chandni Chowk To China Videos
Chandni Chowk To China Photos
Movie Info
Kal Ho Naa Ho director Nikhil Advani takes the helm for this tale of mistaken identity concerning a chef who's confused for a dangerous martial arts expert.
Critic Reviews for Chandni Chowk To China
Audience Reviews for Chandni Chowk To China
Storyline was a little bit difficult to follow. At first, was good humor, action, and serious. As the movie progressed towards the end, the whole "serious" of the movie was absent.
Sherry Kaur
Absolutely hilarious! Sidhu is a faithful cook in his uncle's food stand, and is always trying to make the best with whatever luck he has. Even if improving his place in life, he rarely gives up. Along with his faithful companion Chopsticks, Sidhu must travel to China to help a village from a horrible tyrant. In the process, he meets Sakhi and her mysterious twin sister, Meow Meow. Tons of laughter! Great dual performances by Deepika. Story plots that centrally coincide with two, or more, countries are always fascinating, and makes the suspense more intriguing. Great cast- Akshay Kumar, Deepika Padukone, Ranvir Shorey, Mithun Chakraborty, Gordon Liu, and Roger Yuan. Definitely worthy!
The best way to describe this movie would to say it is a little like Kung Fu Hustle combined with any upbeat modern Bollywood film: colorful, crazy, cartoonish but at the same time wildly entrancing and wonderful. I was kept on my toes throughout the whole of the movie. My worries about being confused about the plot were unfounded. Straightaway we know that Sidhu is a typical Kung-Fu Panda type hero, someone to be the "chosen one," who is destined for much more than being a simple cook. Of course he learns in the end that the way to truly beat the enemy is to go with what you know, namely, imagine the enemy to be a giant potato and pretend to slice him up as a cook would. Is being a cook the sign of good deeds, hard work and humility? I guess so ~ but this is a kung-fu movie after all, with an interesting cross of Indian and Chinese cultures that of course would never be in any North American movie that I'd readily find in even the King County library system. Indianness, of course, was prized in this movie over the Chineseness... note the way Meow Meow and Sakhi are half Chinese and half Indian. Meow Meow is the "bad" sister, always wearing an impressive array of black, with makeup that really made her look more Chinese. Sakhi, of course, was the "good" sister - the Indian looking one, who always wore light, flowery colors and really couldn't defend herself in any way besides the little gadgets that she employed as Miss TSA (a celebrity figure who apparently peddled mini-translators, bulletproof umbrellas and mind/movement control devices on 2 AM infomercials). I admit, those gadgets were cool. And the scene where she saves Sidhu while floating amidst city lights with the umbrella was wickedly awesome. Both sisters were wickedly awesome in my eyes. They were just very different, and sided with different ideals/cultures. I wish I could read more into the way India feels about China other than the blatant kung-fu movie emotions that were there, but I don't know enough about international relations to go all deep-emo interpretive on this audience. So be grateful. At the beginning of this movie, some parts were so outlandish and cartoony that I could not help but stare in disbelief. At times it was like an animated cartoon - sailing in the air from a kick to the pants, bouncing on the ground as if made of rubber, etc etc. I got used it quickly and quickly realized as well that this movie does not take itself seriously. Sidhu is quite the goof, but also very extremely kind hearted and genuine... and quite pleasant to look at (although a bit old for me, no doubt!) And the way he cringed and looked terrified of Sakhi just after she mysteriously showed up on top of him trying to explain the trouble she was in was obnoxiously cute. God knows why she wouldn't just sit next to him and poke his shoulder to wake him up if she wanted him to calmly listen to her, but whatever. Scenes like this made me grin from ear to ear. I am glad to have also found the CD soundtrack to this at the Crossroads library. I could get used to music like this, although the translation of the lyrics sound stilted in English. The "Work hard and you will succeed!" or some such inspiring cubicle poster phrases throughout the choruses of the songs sounded like traditional folk tale moral teachings to me, but they were sung with such rhyme and happiness that I didn't care so much. I am very glad that I did not pass this movie up. As one of the other reviewers said on here, you either love this movie wholeheartedly or not at all. I totally went with it.
Jennifer Sundt
Chandni Chowk To China Quotes
There are no approved quotes yet for this movie.
Discussion Forum
Discuss Chandni Chowk To China on our Movie forum!