Character (Karakter)
(1997)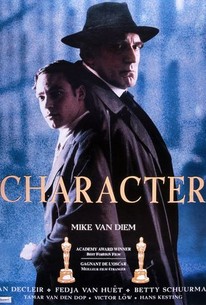 Character (Karakter) Photos
Movie Info
The Horatio Alger impulse meets the Dickensian short-circuit in this atmospheric, Oscar-winning, character-driven 1920s drama about a would-be Dutch yuppie and his bitter, twisted father.
Rating:
R (for violence)
Genre:
, ,
Directed By:
Written By:
In Theaters:
On DVD:
Runtime:
Studio:
Sony Pictures Classics
Critic Reviews for Character (Karakter)
Audience Reviews for Character (Karakter)
A Movie from the 1997 Toronto International Film Festival and again a awesome film from this collection. It was the 1997 Oscar winner for Best Foreign Language Film. One of the most powerful films I've ever seen. The film starts with a heated argument between two men, and when the elder is found dead with a knife in his chest the younger man is arrested and revealed to be his son. The story begins in flashback: the father, Dreverhaven (Jan Decleir from Antonia's Line), is a fearless Scrooge-like moneylender who has cold-heartedly built his fortune by collecting debts and foreclosing on the poor. His son, Katadreuffe (Fedja van Huet), is the offspring of a single night's passion with his housekeeper--in an interesting twist he hounds her to marry him, and she leaves with the boy to raise him on her own. When she dies, father and son become locked in a fascinating battle: as Katadreuffe finds him calling in the law, Dreverhaven buys up his debts and attempts to drive him into bankruptcy. Katadreuffe eagerly takes up every challenge his father throws at him in a perverse show of strength and filial defiance. 5 stars can only wish I could give it more.
Bruce Bruce
Super Reviewer
I decided to rent a Dutch movie so I could hear Dutch for 2 hours. The movie is called Character. (Karakter) And it's about this guy Jacob Katadreuffe, who is accused of murder in the 1920s. The man he is accused of murdering is his father A.B. Drevenhaven. Both of these names are so Dutch! Anyway since I only know cute lovey words in Dutch I didn't recognize any words. Because no one was remotely nice to eachother in this movie. Jacob's Mom never speaks to him. She just stares at him and cooks him food. His Dad treats him like crap and tries to bankrupt him for years. Jacob is miserable he has no friends and no job. But one day he is summoned to this lawyer place and decides to beg for a job. They say "No" at first, but when he was young he taught himself English, so he speaks it to someone in the office and they give him the job. He does not speak English ever again in the movie though. There's also a romance, with no kissing and with well no romance. They just give eachother looks and then she marries someone else. His Mom in a touching scene later tells jacob that he was being an "ass". Anyway it's a pretty agonizing movie. It apparently won best foreign Lauguage film in 1997. I had never heard of it. The lead actor kind of reminded me of the singer from Placebo. hehe Anyway here are some pictures so you can compare. Or possible Vincent Perez? [img]http://www.chico.mweb.co.za/mg/art/film/9902/990218-vanhuet.jpg[/img] [img]http://musica2.tiscali.it/speciali/placebo/image/placebo_interview.jpg[/img] [img]http://www.5in9.com/graphics/vincent_perez_s1.jpg[/img]
Laura Leydes
Dutch movies always had intrigued me to watch them. Specially one who had win the Academy Award as Karakter. It was one of the best period movies I have seen,due to the very interesting aspects in it made it worth watching. The movie had some great moments, great visual impact and also a big narrative content, which revealed the mystery of the whole movie. The performances in this movie were amazing, I knew some of them being great actors in The Netherlands. The movie image was also beautiful, Rotterdam in the early years. Amazing movie, a story full of feelings.
Daisy Maduro
Super Reviewer
Character (Karakter) Quotes
| | |
| --- | --- |
| Jakob Willem Katadreuffe: | Today I have been made a lawyer. You no longer exist for me! You have worked against me all my life! |
| Dreverhaven: | Or for you. |
| | |
| --- | --- |
| De Gankelaar: | Who taught you that senseless self-chastisement? I give you the money and you take it! People who can't accept a gift have nothing to give themselves." |
| | |
| --- | --- |
| Joba Katadreuffe: | Why don't you leave our boy in peace? |
| Dreverhaven: | I'll strangle him for nine-tenths, and the last tenth will make him strong." |