Charlotte's Web 2 - Wilbur's Great Adventure
(2003)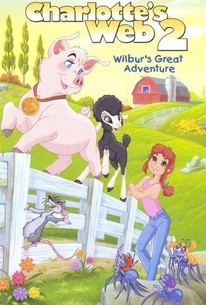 AUDIENCE SCORE
Critic Consensus: No consensus yet.
Charlotte's Web 2 - Wilbur's Great Adventure Photos
Movie Info
Wilbur the Pig and his friends from Zuckerman's Farm return in this direct-to-video sequel to the animated feature Charlotte's Web, which was based on the beloved children's story by E.B. White. After the passing of his pal Charlotte the spider, Wilbur (voice of David Beron) befriends Cardigan (voice of Harrison Chad), a homesick lamb who has just arrived on the farm. Wilbur and Cardigan become the best of friends, but one day Cardigan disappears and Wilbur learns Farmer Zuckerman has sold the lamb. Afraid of the fate which may befall Cardigan, Wilbur teams up with Templeton the Rat (voice of Charlie Adler) and three of Charlotte's daughters, Nellie (voice of Amanda Bynes), Joy (voice of Anndi McAfee), and Aranea (voice of Maria Bamford), to bring him back home.
Critic Reviews for Charlotte's Web 2 - Wilbur's Great Adventure
All Critics (1) | Fresh (0) | Rotten (1) | DVD (2)
This is the sort of bland adventure that kids will have seen a hundred times before, with not-so-tense near-misses and not-so-exciting chases along the way.
July 29, 2003 | Rating: 59/100
Audience Reviews for Charlotte's Web 2 - Wilbur's Great Adventure
it was pretty entertaining its not the classic that the first film was but this film tries pretty hard but its definitely not horrible
Michael Edwards
Super Reviewer
The animation is terrible and so is the story. Why on Earth did they decide to make a follow-up to the already good film, Charlotte's Web? I do not want to know the answer. Charlotte's Web is a story that dosen't need a sequel or follow-up. I hate anyone who was involved in this. Oh, what's with the blacksheep who wants to be a pig? SSSSSTTTTUUUUPPPPIIIIDDDD!!!!! E.B White will shoot himself in the head if he sees this.
Bentley Lyles
Super Reviewer
½
I don't understand why they have to make sequals to all great hits and eventually partially ruin them in the process... Positives: We get too see an update on the characters from the classic Charolottes Web. It stops about right there. Negatives: Wilbur gets a new friend that is a lamb, the lamb get's sold, wilbur goes on an adventure to find him that nearly gets him butchured - while all the way charlottes children are trying to write words in a web to live up to there mothers reputation. Really? Its just not good. The plot is like a forced story just too try to make some money off of a classic movie sequal that will never stand up to the first, like 95% of sequals. The characters look much more retarded in this one, they must of got make-overs from hell, and the actors are worse too. It went from a serious classic too your typical comical pointless movie. Overall: I think movies need to really think about making a sequal and think about what it may do to corrupt the classic. If your only making a movie to make money off of the first ones success and you truly have no good follow-up, just dont make it! This movie was one of those movies that probably should not of been made. You should watch it if you liked the first, only too see the updates, but be prewared there should be no comparison as this does not even stand close to what charlotte's web should be.
Bobby Hobbs
Super Reviewer
Charlotte's Web 2 - Wilbur's Great Adventure Quotes
There are no approved quotes yet for this movie.