Chastity Bites
(2013)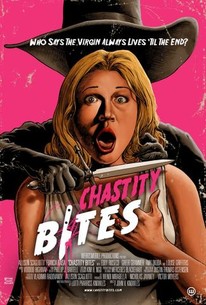 AUDIENCE SCORE
Critic Consensus: No consensus yet.
Movie Info
Serial killer Countess Elizabeth Bathory slaughtered more than 600 virgins in the 1600's, believing that bathing in their blood would keep her young and beautiful forever. Still alive today, she's found a perfect hunting ground for her brand of "botox" as an abstinence educator in conservative America...but will she finally be stopped by Leah Ratliff, a brave young blogger and reporter for the high school paper? (c) Official Facebook
Rating:
NR
Genre:
,
Directed By:
Written By:
In Theaters:
On DVD:
Runtime:
Studio:
Critic Reviews for Chastity Bites
All Critics (3) | Fresh (3) | Rotten (0)
Camp and somewhat frothy, Chastity Bites gets by on the strength of its cast who are all clearly having a whale of a time.

Fresh from its world premiere at Dances With Films comes the delightfully cheesy horror comedy Chastity Bites, which takes a John Hughes high school world and puts a blackened spin on it...

Audience Reviews for Chastity Bites
The Virginity Action Group Countess Elizabeth Bathory in the 1600s was known as the blood baroness who soaked in virgin blood to preserve her youth. A descendant feeling persona has arrived in present day and began a virgin club at a high school. The girls quickly fall in love except one outcast who doesn't want to participate. The outcast may be the high school's only hope of staving off the countess. "It's so hard to find Mexicans that do their job correctly." John Knowles delivers Chastity Bites in his directorial debut. The storyline for this film is a bit bland and felt like an independent film. The quality of the acting and kill scenes was also below average and nothing to write home about. The horror elements were lacking and disappointing. "I'm not used to people not liking me." This was recommended to me by Fios so I randomly DVR'd it off cable. This felt like an Independent film festival entry that was worse than even made for television quality. There isn't much going for this movie and I recommend skipping it...even for diehard horror genre fans. "Smells like fish taco Tuesday over here." Grade: F
Kevin Robbins
½
John V. Knowles' "Chastity Bites" is a horror comedy that takes the classic 80's idea of fun-time slasher delights. Then mixes that with a fascination for vintage, supernatural idolatry, and upbeat, comedy-camp satire. The film stars Allison Scagliotti, Francia Raisa, Louise Griffiths, Eddy Rioseco, Amy Okuda, Jennifer Gimenez.. "Chastity Bites" is Knowles' directorial debut and my only thought is "why in the h*ll did it take this long?!". The style, feel, and look of the film is that of a seasoned director whose work is effortlessly executed. "Chastity Bites" follows a group of high school students both frienemies and foes, challenged with the typical social hurdles and proclivities, facing a darker sinister force out to build them up just to tear them down-Lady Bathory. Liz Bathor is on an unholy mission to see that the young ladies of the local high school stay pure and chaste. It is a clever story that is energetic, quick witted and funny. The humor is both straight forward cheese ball humor blended with the darker satirical cultural quips that aren't as "surface". It is one of the few films that I have seen in a long while that fully completes the story arch fully with the same intensity and conviction from start to finish. The acting is something that pleasantly surprised me, going into the film I was expecting some fumbling by the actors on the dialog and character interaction and elements meant to create a relatable foundation between the actor and audience. At times it seems those fears were to be met but in almost every scene the cast manages to keep the comedic timing without falling flat, and for the depth of dialog, pop culture referencing and repartee this film carries, it isn't an easy feat for Indie films to pull off. "Chastity Bites" is a modern classic that gives good 80's homage without coming off as cheap or forced. The special effects and soundtrack are timeless and entertaining. The effects remind me of classic 80's horror techniques that never fade, offering good, visual kill scenes, with very minimal CGI. The fact that the film stays closer to the darker side the horror comedy than "spoof" films helps make "Chastity Bites" a film that will be enjoyable time and time again. Plus you can't get a better character than Elizabeth Bathory when dealing with virginity and eternal youth while poking fun at social obsessions and cultural hypocrisies. The soundtrack, both musical and sound effects, create a fun, energy that never holds the film back or feels out of step with Knowles intentions. I really enjoyed this film and think all horror/comedy fans and slasher fans alike should check it out!
rick russ
Chastity Bites Quotes
There are no approved quotes yet for this movie.
Discussion Forum
Discuss Chastity Bites on our Movie forum!