The Chateau
(2002)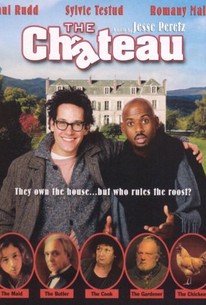 Movie Info
Two estranged American brothers inherit a French chateau from a long-lost relative, but their efforts to claim it are stymied by the mansion's crew of uncooperative servants. With no hope of paying off the chateau's enormous debt, the pair are forced to sell the chateau, leaving a bewildered staff resorting to desperate and hilarious measures to keep their home.
News & Interviews for The Chateau
Critic Reviews for The Chateau
Audience Reviews for The Chateau
The Chateau is a little oddity that was largely improvised. That accounts for the film's multiple tones, and the awkwardness in which it shifts between them, but it also provides some really funny bits and an air to itself that is both charming and fresh. The film is chock full of flaws, but it's so fun and different that I just couldn't help enjoying myself all the way.
Caleb McCandless
I found it to be a likable film, in spite of the lackluster reviews. Sylvie Testud is charming and has such an interesting face. Paul Rudd is fine as well. It has a very natural style that works well for the film. It's unusual and not predictable.
James Higgins
½
I have to give this film one and a half stars due to several reasons. One being how boring and dull it was. It is supposed to be a Comedy but it wasn't very funny...it'll make you laugh a few times and that's it. It is more of a weird indie film than a Comedy. Another problem I had with this film was the direction. The camera is always at bad angles and the picture is horrible. The picture is always grainy...I think that would be something that the director intended to do but it was a very bad move. It made him look like an ammature which he might be because I've never even heard of Jesse Peretz before. He doesn't look like an ammature just because of the picture though because the angles he used were bad as well and the camera always moving too much. It isn't a Horror movie...it is a Comedy! So, there is no need for the constant movement. This is just an overall bad movie that could have been a lot better. I don't blame the actors for the failure of this film but the director and writer.
Justin Quinn
The Chateau Quotes
There are no approved quotes yet for this movie.
Discussion Forum
Discuss The Chateau on our Movie forum!