Chatroom
(2010)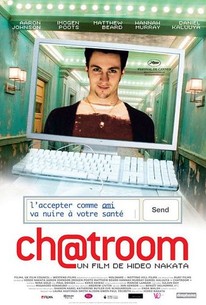 Movie Info
A handful of teenagers make the mistake of baring their souls to the wrong person in this thriller. Eva (Imogen Poots) is a young model whose good looks and poise disguise her aching doubts about herself and her wishes she could be more like others. Jim (Matthew Beard) is still wrestling with the demons brought on by a painful childhood and tries to beat back his fears with drugs. Emily (Hannah Murray) feels plain and unattractive and is filled with resentment towards her ambitious father and mother. And Mo (Daniel Kaluuya) struggles with his sexual desires for children, in particular the sister of a close friend. These four young people are frequent visitors to an internet chat room, where they can talk about their fears and anxieties while being drawn out by the compassionate moderator. But the man who runs the chat room is not all he seems. William (Aaron Johnson) is the unstable and neglected son of a successful author (Megan Dodds); he's grown to hate his more confident brother Ripley (Richard Madden) and has established the chat room in order to manipulate others to his own ends by getting them to share their secrets and using this knowledge against them. Chatroom was the second English-language feature from Japanese horror veteran Hideo Nakata. ~ Mark Deming, Rovi
Critic Reviews for Chatroom
Audience Reviews for Chatroom
A disastrous attempt on satirizing the chatroom culture. 5 spoiled teens met online and encourage each other to do outrageous actions. I really did not like the style the film used, also the acting was rubbish. I was practically bored to death. Michelle Fairley starred in this film, possibly the only reason why I watched it.
Sylvester Kuo
Super Reviewer
Utter waste of time. The construct of acting out interactions in an online chatroom as a real environment would be a clever idea in 1992 when the internet was new and unfamiliar territory but just looks silly today because we know it doesn't work this way. Matthew Beard plays a total douche for no apparent reason who gets his kicks by manipulating "friends" he makes in a chatroom called 'Chelsea Teens!' and the last half-hour is tediously spent trying to get one of them to commit suicide while the others try and stop him. If she can get some meaty roles, Imogen Poots will be a star: you heard it here first! She caught my attention as a peppy boarding schoolgirl in Cracks and is very good as a reforming rich bitch here, but as part of an ensemble she can't rescue this by herself since the rest of the cast range from unconvincing (Beard fails at charisma and Hannah Murray is waaay too bubbly) to barely adequate. One star obviously signifies a very bad movie and Chatroom isn't outright awful like most one-star movies, but it simply doesn't contain anything beyond Poots worth recommending.
Doctor Strangeblog
Super Reviewer
Cast: Aaron Johnson, Imogen Poots, Matthew Beard, Hannah Murray, Daniel Kaluuya, Megan Dodds, Michelle Fairley, Nicholas Gleaves, Jacob Anderson, Ophelia Lovibond Director: Hideo Nakata Summary: Five teenage chat buddies engage in a deadly game of cat and mouse as charismatic online predator William (Aaron Johnson) discovers his next victim in Jim (Matthew Beard), and Jim's friends Eva (Imogen Poots), Emily (Hannah Murray) and Mo (Daniel Kaluuya) try to free him from the clutches of the nefarious manipulator. Their online world bleeds into reality. My Thoughts: "William is quite a sadistic person. He can't deal with his own issues so he starts living vicariously through others suicides. Literally brain washing them and feeding off their depression. The movie is interesting but very sad. The ending isn't too satisfying either. I had hoped for a different outcome. I wanted more of a 'lets get him into a psychratric hospital for help', ending. But the film went for a more dramatic shock value ending instead, which I guess works for the film. Aaron Johnson delivers a great performance as the harrowing William. The rest of the cast does well, but Aaron definitely out shined them. This little indie thriller is worth taking a look at."
♥˩ƳИИ ƜѲѲƉƧ♥
Super Reviewer
Chatroom Quotes
There are no approved quotes yet for this movie.