Chawz
(2010)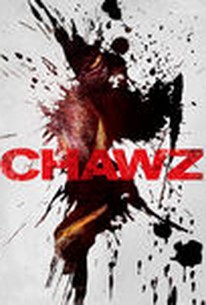 AUDIENCE SCORE
Critic Consensus: No consensus yet.
Movie Info
A young police officer discovers that rural life can be even more treacherous than city living when he reports to his new post in a remote village, and a monstrous, man-eating boar begins feasting on the locals. Perplexed by the rash of violent murders that has rocked their quiet hamlet, the incompetent local authorities call in a veteran detective to catch the killer. Shortly thereafter, an ambitious Seoul policeman arrives in the village, and quickly determines that the culprit isn't human. But catching the beast won't be easy, and in order to do the job right they'll need the help of some seasoned hunters. Later, while searching the back woods for the elusive flesh-eater, the hunting team unearths evidence it could be the result of a wartime experiment gone horribly awry. Now, the hunters have become the prey, and as the beast begins its feast, these once-peaceful woods will be filled with a symphony of blood-curdling screams. ~ Jason Buchanan, Rovi
Critic Reviews for Chawz
All Critics (1) | Fresh (0) | Rotten (1) | DVD (1)
Picture has difficulty translating frantic fits of performance and slapstick into a crisply executed feature film, wasting a delicious premise on two protracted hours of stillborn silly business.
Audience Reviews for Chawz
6.4/10 The Korean-made "Chawz" is an appealing movie; funny, lighthearted, sometimes intense, sometimes cleverly-written, but completely unsure of what direction it wants to take. It tackles a number of different genres and takes aim; it tries to successfully play out like a B-movie, a horror film, a character drama, and most importantly of all a dark comedy. It has a sense of humor that few "monster movies" - since it thoroughly seems to be indicated that it wants to be regarded as one - have, which is admirable, but aside from a genuinely fine piece of entertainment, it's not much more. I was kind of engaged, I can't deny that I enjoyed myself, but it's the kind of mess that's nigh irredeemably silly and unfocused in equal measures. Still, I like B-movies, I like films with monsters both big and small, and Korean cinema is both intriguing and pleasurable for me, or at least it has been those things in the past. I'm not so sure what to think here; this isn't a high point for the country's cinematic offerings, but it's not bad enough to qualify as a weak entry either. It's almost likably absurd and in its best moments, mildly charming, which is enough to save it from being worthless dung. But what keeps it from being a winner is the target; which refuses to stand still, and denies the fact that it can be singular. "Chawz" is not bad, it's not good, and you'll either enjoy it or you'll want it to end after the first ten minutes. It's not quite what you'd expect, or what you'd want, but if you're familiar with the cinema of Korea, then you might find some things to like. It is, alas, the kind of satirical film that takes on the stylistics of whimsy, perhaps in larger doses than appropriate. A young police officer moves to a small, "crime-less" village; he initially feels at home with his new surroundings, since he starts with apprehending drunk drivers and doesn't appear to be going much further than that, but there's a sense that he, a simple man, does not mind his limitations. However, he's given his first real chance to shine when the silent, yet lively and welcoming village is the target of a large, mutated boar's primal rage. The giant mammal kills its fair share of people, prompting the authorities in charge to call in the "men with guns"; in the form of a top hunter and some guys he called in from a land far away. The first half builds up accordingly and rather well; we get to know some of the characters - even if there are, without a doubt, far too many to keep track of or care about - and we begin to identify with the situation at hand. There are people in the group that we like, and those we absolutely detest. The film itself seems to be trying to make a point, in some scenes, when disgustingly immoral people do disgustingly immoral things. The problem with such scenarios is that when we see these people do their said inhuman deeds, we want them to die; get eaten by that nasty bore...eaten right up. Yet most of the time, they aren't the ones who die. Bummer. Another thing; that damn piggy. "Chawz" openly advertises itself as a horror-comedy, not a straight-up horror film as I might have initially suspected and anticipated. The film doesn't let us get too good a look at the boar for most of its 120-minute running time, which gets annoying and rather tedious - bordering pretentious - when most of us came for the boar and therefore expected the boar. If it was a REAL horror film, then I would have accepted the aspirations to be suspenseful and scary, but this is not a great movie; for both its genre and its type. It wants to be quirky, unique, and outlandish; it is, but choosing to not show that big pig wasn't the right decision. I'm not sure if the filmmakers behind it knew this. All-in-all, there is some good fun to be had here. The movie is what it is; decent escapist entertainment that does a good deal of what it promises to do, and disappoints in other significantly crucial areas. It isn't a failure; it isn't even a bad movie, but the flaws were distracting at times, and therefore, I cannot say whether it's good, bad, or even mediocre. As far as decency goes, I'd say it got on my good side; but I was in a good mood, after all, so it was an enjoyable ride. You know, if you can get past the lack of depth, clear commentary and/or satire, and the clear observation that it's terribly overlong for a Korean monster movie about a giant boar that supposedly kills people. It seems to keep dragging on-and-on-and-on at parts, yet I still felt somewhat engaged. That's a bit of a blessing; but, it's not quite enough. Nothing is ever enough. And that revelation alone almost makes me want to have sympathy for "Chawz" and forgive it of its problems, but you know; that's not how criticism works. And since I often follow the common rules of film criticism, it cannot be said that the pieces come together to make this killer-boar movie an effective whole.
Ryan Marshall
Super Reviewer
½
You know, to be honest, this is an average horror-comedy at best. It's not something that you really need to go out of your way to see, but, quite frankly, I quite enjoyed this movie. The rating doesn't reflect how I enjoyed it, but I'm in this "business" to write fair and balanced reviews. The reason I enjoyed this movie as much as I did was because of its quirky characters and moments. It's not as funny as it should be nor is it a great horror movie either. But the characters themselves were so quirky and wacky that it made an average horror/comedy fine entertainment. At the same time, the movie certainly has its pacing issues that would've made the movie better than it was, but it's not to be. I digress, if this movie tried a straightforward approach to this 'story' it probably would've been a disaster of massive proportions. So thank Christ, it's as quirky and wacky as it is because it completely makes the movie quite frankly.
Jesse Ortega
Super Reviewer
Chawz Quotes
There are no approved quotes yet for this movie.
Discussion Forum
Discuss Chawz on our Movie forum!