The Cheap Detective
(1978)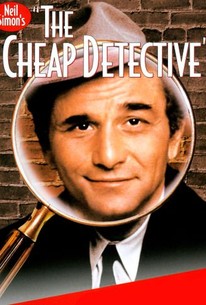 The Cheap Detective Photos
Movie Info
Playwright Neil Simon tries his hand at film parody in The Cheap Detective, sending up the private genre of the 1940s --The Maltese Falcon in particular. Peter Falk is Lou Peckinpaugh, a trenchcoated nincompoop with a Humphrey Bogart accent, who finds himself accused of killing his partner, with whose wife Georgia Merkle (Marsha Mason) he has been having an affair. Amidst this confusion, the sultry Mrs. Montenegro (Madeline Khan) stumbles into Lou's office. She is searching for an ancient treasure --a dozen diamond eggs. Soon Lou finds himself having to deal with a collection of unsavory characters --Jasper Blubber (John Houseman), "The Boy" (Paul Williams), Pepe Damascus (Dom DeLuise)-- who are also looking for the diamond eggs.
Rating:
PG
Genre:
Directed By:
Written By:
In Theaters:
On DVD:
Runtime:
Studio:
Columbia Pictures
Critic Reviews for The Cheap Detective
Audience Reviews for The Cheap Detective
I thought that this film was hilarious. I thought that it was well written dialog and the jokes were well done. I liked the opening credits, sets, decor, costumes, and music which were well done for this film. This film is made up of a lot of actors from 60's through 90's. I also liked how he would get out of not paying the cab driver each time he takes a taxi ride. The Nazi's in this film were funny too. I like the bar scene when everyone sings like the Germans sing their national anthem and everyone else then starts to sing. I love how the film ended with him riding with all the girls from the film and was able to get rid of the one that was his partners wife. I love how everyone who gets shot stays still in the position they were standing in when they were shot.
STCENTERPRISE .
½
The Maltese Falcon and Casablanca are where this spoof/send-up begins, turning out little better than a lame Saturday Night Live skit (only running longer), but enjoyable for the charisma of its cast, obviously enjoying a chance at these familiar characters. Falk made a career out of playing a poor man's Bogie, and there's not enough Ann-Margret.
Kevin M. Williams
Super Reviewer
Peter Falk's typecasting as a noir detective was never more prominent than in the genre spoof The Cheap Detective. Borrowing heavily from the Humphrey Bogart classics of the past, the film also pays enormous homage to the genre itself while managing to be a great, smart comedy on its own. With a cast that includes Ann-Margaret, Eileen Brennan, Madeline Kahn, Sid Cesar, Dom DeLuise, Louise Fletcher, Paul Williams and Stockard Channing, the movie is so wonderfully colorful in its casting, depsite not being a particularly strong film. It is enjoyable and fun, but lacks the qualities of a perfected comedy classic.
Tim Salmons
Super Reviewer
The Cheap Detective Quotes
There are no approved quotes yet for this movie.
Discussion Forum
Discuss The Cheap Detective on our Movie forum!