Cheap Thrills
(2014)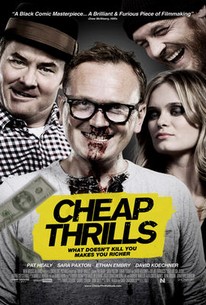 Movie Info
Cheap Thrills follows Craig (Pat Healy, Compliance), a struggling family man who loses his low-wage job and is threatened with eviction. In an effort to delay facing the music at home, he heads to a local bar and encounters an old friend (Ethan Embry, Empire Records). The two friends are roped into a round of drinks by a charismatic and obscenely wealthy stranger (David Koechner, Anchorman 2) along with his mysterious wife (Sara Paxton, The Inkeepers). The couple engages the two friends in a series of innocent dares in exchange for money over the course of the evening, with each challenge upping the ante in both reward and boundaries. It seems like easy and much needed money, but the couple's twisted sense of humor pushes just how far Craig and his friend are willing to go for money and cheap thrills. (c) Drafthouse
People Who Like this movie also like
News & Interviews for Cheap Thrills
Critic Reviews for Cheap Thrills
Audience Reviews for Cheap Thrills
I think that those who rated this movie particularly highly wanted to embrace a film that puts the unthinkable on film but it is purely sensationalist at its heart. Some films were just never supposed to be made.
John Ballantine
Super Reviewer
Cheap Thrills is a great thrill and gives the viewer a run for its money (no pun intended). With $250k up for grab, it's up to Pat Healy and Ethan Embry's characters to battle it out, bet for bet, to see who takes home more cash by the end of a crazy night. Sara Paxton and David Koechner play the convincing eccentric married couple who are literally getting their cheap thrills through the other two. I like the four person cast. It keeps things focused and localized and on point. As each bet gets wilder and more dangerous, more money is on the line. Things start out innocently enough before the tide turns half way through the movie to violence and sadistic pranks. It's really dark humor for a film about a man who is married looking to support a wife and child after getting fired from his already low-paying job going against a former high school friend who is a borderline criminal. Big blockbusters don't always hold the sway of the audience compared to complete films like these independents do. At a quick hour and 20 minutes, Cheap Thrills gets you from point A to point B in a fun, slightly disturbing, romp over the course of one night to see who wins the grand prize.
Lane Zieben
Super Reviewer
I know we're supposed to laugh along as the two lead characters are humiliated and debased, but I can't help but feel violated by director E.L. Katz as the film delves into the twisted and depraved.
Eddie Chung
Super Reviewer
Discussion Forum
Discuss Cheap Thrills on our Movie forum!