Checking Out
(2005)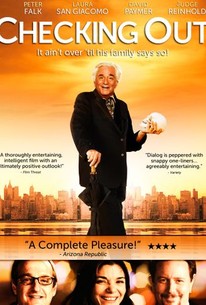 Movie Info
A feisty octogenarian on the verge of his ninetieth birthday invites his three grown children to his upcoming birthday celebration with the explicit understanding that when the festivities end, so does his life, in a dark but light-hearted family comedy directed by Jeff Hare and starring Peter Falk. Morris (Falk) has lived a full life, but now the time has come to end his impressive run. When Morris goes to mortal extremes to reunite his three estranged children, his morbid declaration helps his offspring to realize that, even in old age, the importance of one individual should never be underestimated. David Paymer, Laura San Giacomo, and Judge Reinhold co-star in the one comedy that proves you're never too old to stir up a bit of mischief.
Critic Reviews for Checking Out
Audience Reviews for Checking Out
Falk is as good as ever and the rest give it their all; you couldn't ask for a better cast, just better material.
Lee Mayo
Based on a play, feels like a play. That's a good thing as far as I'm concerned, but that means it moves slowly and there's far more sitting around and talking than exciting car chases (although, come to think of it, there's a kind of car chase too). A few of the characters are a little too self-consciously onstagelike, and the production quality is slightly amateurish. However, the script is intelligent, funny, and hits all the right notes without being either too morbid or too sappy. Peter Falk was fantastic, creating his own unique character. The ending veered dangerously close to being trite, but managed to avoid that. All in all, a very satisfying little movie you've probably never seen. (Also, although they have the cast list correct on this site, the cover picture is not. That's from the 1989 film of the same title.)
Hannah Megill
½
Yet another one of those movies that fall right in the middle. So-so comedy, has good and bad. It's not awful, it's not good. Good performances. But not always engrossing.
James Higgins
Checking Out Quotes
There are no approved quotes yet for this movie.
Discussion Forum
Discuss Checking Out on our Movie forum!