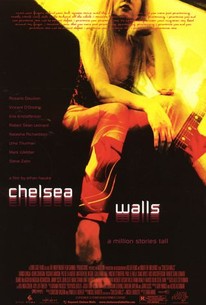 Chelsea Walls
2001, Drama, 1h 49m
47 Reviews
1,000+ Ratings
What to know
Critics Consensus
The meandering Chelsea Walls is more pretentious than poetic. Read critic reviews
Rate And Review
Movie Info
Grace (Uma Thurman), Audrey (Rosario Dawson), Frank (Vincent D'Onofrio), Bud (Kris Kristofferson), Greta (Tuesday Weld), and Ross (Steve Zahn) are all new residents in the historic Chelsea Hotel. A former haven for budding NYC artists, these new hotel residents, young and full of expectations, mingle with the old hotel ghosts and guests, ultimately becoming interchangeable. They form a community, linked by their dreams.
Audience Reviews for Chelsea Walls
Ethan Hawke's passionate directorial debut paints a mosaic of love, dreams, regrets and plenty of other things that we all experience as people. Hawke's unorthodox approach not only to storytelling, but also to film as a narrative medium, is refreshing and suitably out of the box. Aiding the effectiveness of this unique picture's beauty is a highly talented and convincing cast of actors. This is not a film that everyone will enjoy, but it's something I loved watching and it definitely appealed to me on a personal level.

<i>I want to contradict myself by accident, and for you to know what I mean...</i> <p>This film, which really isn't a movie as such, more a feeling of mood with snatches of conversation, is definitely going to be something of an acquired taste. Directed by Ethan Hawke, the film shifts focus between the various occupants of the Chelsea Hotel in New York (which in the past has been inhabited by various famous poets, authors and artists, from Tennessee Williams to Bob Dylan). There's very little in the way of narrative or story, we just catch glimpses of peoples feelings, thoughts, hopes and doubts. There isn't a sudden understanding at the end of the film, and the various peoples lives don't suddenly connect or clash. <p>The way it's filmed stops everything from feeling pretentious, or too much like a vanity project (which it undoubtedly is). In fact the way it's filmed (on digital video) - the dreamy, 'hypnoticness' of it - was what sucked me in and made me feel a part of it. The photography from Tom Richmond is beautiful in places. <p>Ethan Hawke has managed to assemble a sprawling cast, some of whom are very talented indeed, presumably all working for scale. Among them are Vincent D'Onofrio, Rosario Dawson, Steve Zahn and Uma Thurman, but the two best performances come from Robert Sean Leonard and Kris Kristofferson. <p>I watched this late at night when I was slightly sleepy, which is probably the best way to see this film. Cautiously recommended.
See Details