Cheongchun-manhwa (Almost Love)
(2006)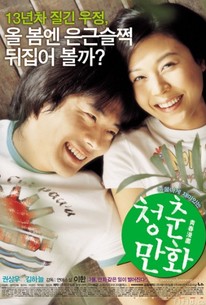 AUDIENCE SCORE
Critic Consensus: No consensus yet.
Movie Info
A stunt man, who dreams of becoming Korea's answer to Jackie Chan, and a timid aspiring actress have been best friends since childhood. But their relationship becomes complicated when they each start dating other people.
Critic Reviews for Cheongchun-manhwa (Almost Love)
There are no critic reviews yet for Cheongchun-manhwa (Almost Love). Keep checking Rotten Tomatoes for updates!
Audience Reviews for Cheongchun-manhwa (Almost Love)
½
Another South Korean "romantic" comedy that is undone during its last act by its unrelenting reliance on melodrama and sentimentality that simply isn't necessary at all. I notice that I say this a lot in the reviews for these Korean comedies, so sorry to sound like a broken record, but if they keep pulling the same shit, I'll keep handing out the same criticism. I even started counting how many minutes the melodrama and sentimentality lasted. It starts about an hour and 11 minutes in, there are 39 minutes left in the movie. And they ended FIVE minutes before the film is over. So in all, THIRTY-FOUR minutes is spent on shit that detracts from the "story", it doesn't enhance it. I suppose it is "tragic" to have a guy whose dream is to be an action star lose his leg, but why do you have to tell this story so ineffectively? Actors crying and having a sad piano song playing in the background is NOT effective storytelling. I don't know how many times I can say that. This type of shit is really pandering. They're trying to manipulate you into buying their shitty story as something meaningful and emotional and it just isn't. And they just NEVER learn. They stick to their soap opera method through and through, because the series are the same way too. They keep making the same mistakes over and over and at this point I'm pretty sick and tired of it. I don't mind seeing a movie that's supposed to be romantic if it, AT LEAST, has good storytelling. I don't care what genre a movie as long as it's good. My favorite movie of 2009 was 500 Days of Summer, a fucking ROMANTIC comedy. Anyway if I keep gong I won't shut up. To be fair to this movie, this was just the straw that broke the camel's back. This rant is mostly directed and South Korean romantic comedies in general, but a lot of the criticisms still apply here. The stuff that ISN'T melodrama isn't very good either way. I compare the comedy in this film to bubblegum pop. It's safe and bland. There's no risks. And the characters are also fairly dull. The only remotely interesting one is Ji-hwan's, whose name escapes me, father. And he was on screen for all of 6 minutes. The main characters are one-dimensional as shit. The guy wants to be Jackie Chan and the girl wants to be a famous actress. Oh and they've been friends for life. That's literally IT for the character development for these two, outside of Ji-hwan losing his leg, and even that isn't really to give the character any depth but rather to just exploit it for "dramatic" purposes. And I put that in quotation marks, because it wasn't dramatic, it was laughable. Another South Korean romantic comedy that really wasn't good to begin and these problems were made even made worse by the sentimentality and melodrama. Don't watch this, please. It's an awful movie.
Jesse Ortega
Super Reviewer
Cheongchun-manhwa (Almost Love) Quotes
There are no approved quotes yet for this movie.