Cher - Live In Concert
(1999)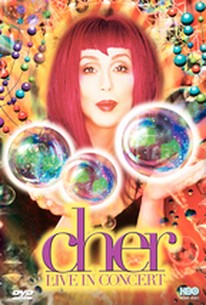 AUDIENCE SCORE
Critic Consensus: No consensus yet.
Movie Info
Rating:
NR
Genre:
,
Directed By:
On DVD:
Runtime:
Critic Reviews for Cher - Live In Concert
There are no critic reviews yet for Cher - Live In Concert. Keep checking Rotten Tomatoes for updates!
Audience Reviews for Cher - Live In Concert
½
1999 Emmy award winning Vegas MGM concert is Cher at her usual best, talking to her raving audience like a friend. So unusual to have stars actually talk to their audience (and talk too much maybe). Few do that, Elvis and a few others did some on stage conversation but not like Cher. The last song and stage show is tremendous with acrobats performing high wire Olympic style feats on the rings. [img]https://encrypted-tbn1.gstatic.com/images?q=tbn:ANd9GcTit0o4eItvabwrvJ7CDXqmf3B9sL_5lagS6DOaXEkldHVJB3AlQw[/img] SEE the entire concert here: http://www.youtube.com/watch?v=O8aH7iLegP0 You get a dazzling array of costumes and a lot of dancers. This is not so much a one person show at all. Filled in with film clips of her and Sonny Bono's television show; past film performances too. The audience watches silently, in rapture of what they are seeing. [img]https://encrypted-tbn3.gstatic.com/images?q=tbn:ANd9GcQSmXvuaNiJ2bnnM5rX4co-7tJDxJQ3n-fIjux56tNXCcKE4kA5[/img] It's amazing, this gal and she is now up in years here, still looks better without a lot of clothes! She isn't out of shape at all. By contrast, this seems almost minimalist. Still, a fun time had by all that night for sure. Tina Turner she is not. Tina's concerts are truely blockbuster performances (see the Amsterdam concert of Tina). But Cher's shows like this one are pretty good. A lot of the costumes are now worn by others giving them brief appearances, but not Cher herself. Cher makes perhaps a half dozen changes of costume. [img]https://encrypted-tbn2.gstatic.com/images?q=tbn:ANd9GcSiTcAy0DJzzSqx6uxXw37exzTvK_sR7bTNddG16rzfFgRXR5bZyQ[/img] For Cher fans in particular and rock vocalists in general, this should be a treat. I have to hand it to Cher, one of the few entertainers in history that got to be known by one name alone (ie Elvis, Bono, Sinatra, Madonna etc.). [img]http://upload.wikimedia.org/wikipedia/en/4/45/Cher-strong-enough-international-cover.JPG[/img] REVIEWS: 1 "Cher's Live in Concert brings her 1999 HBO concert special to DVD. Recorded at Las Vegas' MGM Grand, the show spotlight's Cher's glitz, glamour, and vocal pyrotechnics and features a career-spanning set list....show off her interpretive skills and reaffirm why she is such an enduring performer. The disc also features a cast biography and photo gallery, which elevates it above many of the other concert DVDs currently available."---- Heather Phares 2 An amazing Cher extravaganza of some of her very best songs, punctuated with short clips of her finest acting performances on the huge screens above the stage while she herself is having one of her frequent costume changes. A truly remarkable woman with amazing talent who, despite her previous 33 years in the business, still manages to make her performances as fresh and new as ever. Viva la diva - CHER! NOTES: 1 Live in Concert is the second live music video title by singer and actress Cher. Released by HBO in 1999, it contained footage from Cher's Do You Believe? Tour specials filmed at the MGM Grand Garden Arena in Paradise, Nevada in 1999. 2 Won 2 Primetime Emmys. Another 5 nominations. 3 The IMDb rating was 70% if 262 viewers. Cher: Live in Concert from Las Vegas (1999 TV) 1 Opening Sequence/Introduction 2 I Still Haven't Found What I'm Looking For 3 All or Nothing 4 Cher Talks About Her Costumes and Her Concept for T 5 The Power 6 Monk Dance 7 We All Sleep Alone 8 I Found Someone 9 Sonny & Cher Film Sequence 10 The Way of Love 11 Half Breed (Medley, Pt. 1) 12 Gypsies, Tramps & Thieves (Medley, Pt. 2) 13 Dark Lady (Medley, Pt. 3) 14 Take Me Home Dance Sequence 15 Take Me Home 16 Hollywood Film Sequence 17 After All 18 Cher Introduces Walking in Memphis 19 Walking in Memphis 20 Just Like Jesse James 21 Cher Introduces the Band and the Dancers 22 The Shoop Shoop Song 23 Flamenco Dance, Pt. 1 24 Dov'e I'Amore 25 Flamenco Dance, Pt. 2 26 Strong Enough 27 If I Could Turn Back Time 28 Believe 29 Credits Directed by David Mallet Released December 6, 1999 (UK) December 21, 1999 (US) Recorded August 28, 1999 Genre Live Length 75 mins (VHS) 90 mins (DVD) Label HBO [img]http://eil.com/images/main/Cher+-+Live+In+Concert+-+VIDEO+CD-225642.jpg[/img]
monsieur rick
Cher - Live In Concert Quotes
There are no approved quotes yet for this movie.