Cherry, Harry and Raquel! (Megavixens) (Three Ways to Love)
(1969)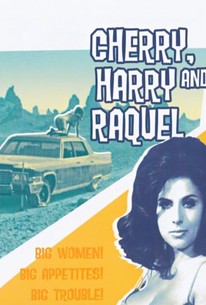 AUDIENCE SCORE
Critic Consensus: No consensus yet.
Cherry, Harry and Raquel! (Megavixens) (Three Ways to Love) Photos
Movie Info
Harry (Charles Napier) is the border town sheriff on the take from drug smugglers. Cherry (Linda Ashton) is Harry's girlfriend and Raquel (Larissa Ely) is her sex-starved companion. The two spend most of their time having sex with men. When there are none to be had, they have each other. The sheriff searches for a renegade Yaqui Indian throughout most of the film that includes sex, violence and a well made auto chase sequence. Fans of Russ Meyer's work will be delighted.
Rating:
R
Genre:
, ,
Directed By:
Written By:
On DVD:
Runtime:
Studio:
Eve Productions
Cast
Critic Reviews for Cherry, Harry and Raquel! (Megavixens) (Three Ways to Love)
All Critics (1) | Fresh (1) | Rotten (0)
Stuck with bucketfuls of inserts when half of the film was lost, Russ Meyer simply devises a new pop montage
Audience Reviews for Cherry, Harry and Raquel! (Megavixens) (Three Ways to Love)
This movie is not one of Russ Meyer's typical sex farces. Even though the title implies a threesome, there is never a threesome in the entire movie. He's trying to make a serious crime story with a lot of naked women. He's also trying to make some kind of political statement. Before the story starts there is a written script about Russ Meyer's opinion on censorship. Ironically at the time he was talking about right wing religious zealots. Today when you read it, it sounds like he's talking about left wing radicals. Meyer's loved to use voice over narrators to set up the story and to state the moral of the story at the end. He starts off with a criticism of marijuana and the open boarder between the U.S.A. and Mexico. After all these years and nothing has changed in the Arizona desert. The Harry character is a deputy sheriff in Arizona who has been smuggling marijuana across the boarder. His corrupt politician boss tells him that his Apache Indian partner has gone into business for himself and wants him killed. The rest of the movie is Harry and the Apache hunting each other in the desert with random sexual encounters with Cherry and Raquel that have nothing to do with the story. And to stretch the movie he throws in subliminal scenes of naked women that each last about a second or two and again have nothing to do with the story. At the end of the story the narrator blames the demise of all the dead characters on the evils of greed and marijuana. Then the final scene revels that the whole story is a fiction story written by one of the female characters and Harry and the Apache are based on her boyfriend and brother. The acting is all overdramatic and the music is cheesy.
Donald White
Not much going on here...not up to par for Meyer, except maybe Uschi Digart in a Native American Indian headress and nothing else.
Michael Troudt
½
"Cherry, Harry & Raquel!" is not Russ Meyer's worst film, but it may be his dullest. The central story involves a border sheriff (Charles Napier, a face that will be familiar even if his name isn't) who is involved in Mexican pot-smuggling and also has two shapely beauties at his disposal. A third gal wearing an Indian headdress romps around naked in unrelated insertions that were admittedly added just to bulk up the film's still-scant running time. The introduction (what's up with Meyer and his love for quasi-academic narration?) and epilogue are equally padded. The conflict between rival smugglers is flat and uninteresting -- though Meyer's flashy jump cuts are genuinely impressive -- and the scene where the hospitalized kingpin (Franklin Bolger) leers about the nurse massaging his chest is annoyingly crass even by Meyer standards. Cute closing twist, though.
Eric Broome
Super Reviewer
Discussion Forum
Discuss Cherry, Harry and Raquel! (Megavixens) (Three Ways to Love) on our Movie forum!
News & Features