Child Bride
(1938)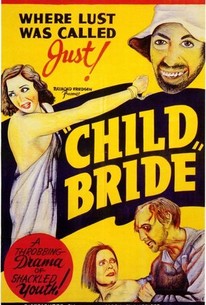 AUDIENCE SCORE
Critic Consensus: No consensus yet.
Movie Info
A social worker new to the rural South is shocked to discover the tradition of child marriage -- marrying off preteen and early teenage girls to much older men. Against much opposition, she embarks on a campaign to stop this practice.
Rating:
NR
Genre:
,
Directed By:
Written By:
In Theaters:
On DVD:
Runtime:
Studio:
Kroger Babb Attractions (KBA)
Critic Reviews for Child Bride
There are no critic reviews yet for Child Bride. Keep checking Rotten Tomatoes for updates!
Audience Reviews for Child Bride
I absolutely loathe Child Bride and I think it is one of the worst films ever made. While it tries to have an anti child marriage message at its core, the film backfires horribly and becomes unintentionally creepy, and at times, horrifying. Since this is a propaganda film, such films during this time period could avoid the usual censors that the Hays Code put on films, so that propaganda films could properly convey their messages. This brings Child Bride into a whole new terrifying light, making the unfortunate viewer wonder what the fuck the creepy film-makers were trying to get away with (Especially since the film has a skinny dipping scene involving the main character). On top of feeling like a creepy pro-pedophelia film, the film as a whole is completely inept just by itself since the story is horribly written, the acting is positively dreadful, the dialogue is terrible and creepy simultaneously, and it's also so fucking boring that I had to watch it twice, because I fell asleep watching it the first time. Child Bride is creepy, inept, boring as hell, and has very few moments of camp value to derive any form of entertainment value. Avoid it at all costs.
Keenan Sullivan
Another Movie from Weird Cinema 15 Freaky Flicks Collection. This collection of movies is at a pretty high price on Amazon. I had the pleasure of renting it from Netflix. This one Child Bride tells the story of Children in the Deep South in Mountain areas being married off at a young age, under 16. Even a short nudity scene at the lake in this one. A film to shame the southern at the view of a Yankee. Some funny scenes, almost a midget toss, and movie comes to abrupt end, who killed the child bride's husband? 2 stars
Bruce Bruce
Super Reviewer
½
Allowing for the 1938 shortcomings of the film, a quaint and interesting drama and mildly propoganda story about age of consent for marriages. At the time, no such law existed and hillbillys in the mountains men would marry 12 year old girls, or younger! Quite clearly the woman were expected to yeild as many children as possible to work on the farms. [img]http://t3.gstatic.com/images?q=tbn:ANd9GcTk-MEckv9F3sBZnR1r6f4yqe3cxKRCtpkp3BKAbmJnB1UM0Un18g[/img] The movie really doesn't get suspensful until about 25 minutes when the only school teacher upsets the mountain people with her "modern" 1938 ideas. [She pushes her fiancee to see the Governor to pass a law forbidding child marriages.] They kidnap her and almost have their way with her until the father of our lead actress, Jennie, [img]http://t0.gstatic.com/images?q=tbn:ANd9GcRHHEVOA-3j4ThezB7HXC1F4hPCEuSmFGOphDOYPHa6oM7ArwxY[/img] who is 12 years old. Miss Carol is an idealistic teacher in a remote one-room school house. A native of the Ozarks herself, she is determined to stop the practice of child marriage, in which older men wed teen or preteen girls. Her campaign raises the ire of some local men, led by Jake Bolby, who drag her into the woods one night with the intention of tarring and feathering her. A third of the film goes by without ever understanding why this film is about child marriage. In many ways, it reminded me of a far better picture Shepard of the Hills (with young John Wayne) since the setting is in the Ozark mountain region of Missouri, USA. [img]http://t1.gstatic.com/images?q=tbn:ANd9GcQP834bs9pBFcqzrL1ItKHKVBJa55qY9DRPWf40cfzgXn0LnSbq[/img] Not a long film and of interest to film buffs primarily, not the general population. Can be described as an exploitation film due to a rather lengthy swim in the local stream by our child actress in the nude, [img]http://upload.wikimedia.org/wikipedia/commons/thumb/9/97/Childbride.jpeg/250px-Childbride.jpeg[/img] and there is no doubt about it. But she is under water all the time and at 12 years old there is really nothing erotic about the scene, just suggestive. The film is one of those crude, poorly acted but still captivating films after the first 20 minutes. The mother is blackmailed and must offer up her 12 year old daughter in marriage [img]http://t1.gstatic.com/images?q=tbn:ANd9GcSvt67WRu8eWKD-slRr0b8i1fvfyI5dGtO0jXw2hUykvOi-wgITkA[/img] to the killer of her husband. [img]http://t2.gstatic.com/images?q=tbn:ANd9GcR3ewtCDvLF8OkCrww5Eo1Q8pwJ1l-V4BesYViAnTUq7ReuWdxI-A[/img] Our villain wants his bride! Enough to make you gag and hurl chairs at the screen, the story's message and A-hole mountain men is more upseting than the acting. [img]http://t0.gstatic.com/images?q=tbn:ANd9GcRUVMWb9bSVGt4P3HBk4W_CH_L7cWHf_IVdMNWTZqAQurbhLYCN[/img] NOTES about the film: 1 Shirley Mills as Jennie Colton, the girl. This was Mills's first movie role. She went on to appear in many films over the next decade, mostly in supporting roles. 2 Bob Bollinger as Freddie Nulty, the young boy. This was Bollinger's only film role. According to Mills's website, now offline, the two young actors became friends, and Bollinger later asked her to marry him, which she declined. 3 Angelo Rossitto as Angelo the dwarf. Rossitto had a long career in movies, stretching from the 1920s to the 1990s. He is perhaps best known for his role as Master in Mad Max: Beyond Thunderdome. 4 The film is very controversial both for its theme, and for showing twelve-year-old actress Shirley Mills nude, but entirely in water, during an infamous (?) skinny dipping scene. Against the Hayes Code of the time, the film was marketed as an educational flick. SEE the film at: http://www.archive.org/details/ChildBride Directed by Harry Revier Produced by Raymond L. Friedgen Starring Shirley Mills (the girl) Angelo Rossitto (the dwarf, midget, or little man) Warner Richmond Diana Durrell as Miss Carol the teacher Dorothy Carrol as Flora Colton George Humphreys as Ira Colton Music by Felix Mills Cinematography Marcel Picard Release date(s) 1938 Running time 62 minutes Country United States [img]http://t1.gstatic.com/images?q=tbn:ANd9GcRmm74cHpevCE3yLrB3o1UItrJ1rdVbZGyer63lBhSnmTHVRprC[/img]
monsieur rick
Child Bride Quotes
There are no approved quotes yet for this movie.