Children of the Living Dead
(2001)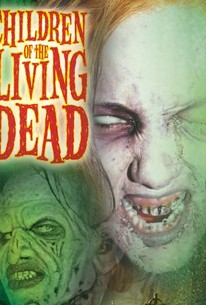 AUDIENCE SCORE
Critic Consensus: No consensus yet.
Children of the Living Dead Videos
Children of the Living Dead Photos
Movie Info
It's never a good idea to have a dead person mad at you, as you will learn from this horror opus. As a child, Abbot Hayes (A. Barrett Worland) was tormented by his emotionally unstable mother, and he grew up to become a sexual predator and mass murderer. But Hayes' evil didn't come to an end with his death; he became a zombie and banded together an army of the bloodthirsty living dead, cutting a swath through the small town where he lived before vanishing without a trace. Nearly a decade and a half later, the terrible story of Abbot Hayes is discussed by curious visitors to the town, but not the locals, who prefer not to mention Abbot's bloody legacy. But when an unscrupulous local businessman buys up a cemetery and makes plans to move the bodies to a mass grave, the undead Mr. Hayes returns, determined once again to show his deadly strength to the people who permitted this show of disrespect to the dead. Children of the Living Dead also features legendary special-effects expert and sometimes actor Tom Savini in a small role.
Rating:
R (violence, language)
Genre:
Directed By:
Written By:
On DVD:
Runtime:
Studio:
Artisan Entertainment
Audience Reviews for Children of the Living Dead
½
Apparently a sequel to Night of the Living Dead by the guy who added new scenes to it, yet only the first few minutes actually seem like a sequel. After everybody killed the zombies in one county (besides one) the world seemed to have forgot it ever happened. For some reason the zombie that was left never did anything for years then started a small outbreak again. Even worst is that this zombie makes a horrible screeching sound. This film is no where like the orignal NOTLD and isn't a very good zombie film on it's own. The characters are bad, the time ellipses come out of nowhere, and the dialog was plain awful. It's a disgraceful sequel that takes Romero's zombies into the wrong direction. Plus, who thought it was a good idea that a murderer turned zombie would be more powerful than a regular zombie? There are so many things wrong with this film, but it has it's entertaining moments.
Wes Shad
½
The bottom of the barrel for zombie films. So bad I almost couldn't make it through. The first 10 minutes is passable, then just plummets into the abyss. This one was below even Tom Savini, and I say that with all due respect.
Julian Toepfer
Children of the Living Dead Quotes
There are no approved quotes yet for this movie.
Discussion Forum
Discuss Children of the Living Dead on our Movie forum!