Children of the Pyre
(2008)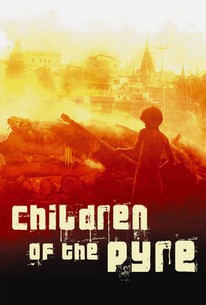 AUDIENCE SCORE
Critic Consensus: No consensus yet.
Movie Info
Near the shores of the River Ganges in Northeast India is Manikarnika, an open-air crematorium where people bring the bodies of their loved ones to be reduced to ashes. Burning the corpses is dangerous and strenuous work, and shockingly most of it is done by children; born into families on the wrong side of India's caste system, these youngsters keep the fires burning, fetch body parts that go astray, recover funeral shrouds and keep the pyres swept out so more bodies can be moved in. The work is hard and the pay is meager, and the boys who labor at Manikarnika often smoke marijuana on the sly to blot out the misery of what surrounds them. Filmmaker Rajesh S. Jala offers a look into the dangerous and unforgiving world of Manikarnika in the documentary Children of the Pyre, which chronicles the hazardous conditions of the crematorium and how these children struggle to hold onto their innocence under dire circumstances. Children of the Pyre was an official selection at the 2008 Montreal World Film Festival. ~ Mark Deming, Rovi
Rating:
NR
Genre:
Directed By:
Runtime:
Watch it now
Critic Reviews for Children of the Pyre
There are no critic reviews yet for Children of the Pyre. Keep checking Rotten Tomatoes for updates!
Audience Reviews for Children of the Pyre
½
Children of the Pyre (Rajesh S. Jala, 2008) "If you look at a corpse long enough, it gets into your head." I'm a big fan of horror movies. Not because they scare me; maybe a half-dozen horror movies have done that in the past forty years, but because they are, in the main, a paradoxical escape from the horrors of reality. Horror movies are predictable, conventional creatures for the most part, as much a slave to their internal mores as romance novels. I haven't seen a horror movie that's truly scared me in over a decade. On the other hand, I can think of two documentaries just off the top of my head that I've seen in the past two years that have been far more disturbing than any horror film. This is one of them. (The other is Modify.) Children of the Pyre takes a look at the lower-caste youths who scratch out a living tending India's constantly-burning funeral pyres. Specifically, India's largest funeral pyre is Manikarnika, in Varanasi. Legend has it that Manikarnika is the site where Shakti immolated himself, and so thousands of Hindi per year are transported here upon death to be cremated. Someone has to keep the home fires burning, as it were, and that job usually falls to children. They supplement their meager income-often the bulk of what their families make, as these are the children of the caste known in India as untouchables-by stealing burial shrouds, washing, and reselling them. (One of the movie's most heartbreaking scenes, from an American perspective, is the title card at the end of this sequence that tells you how much they make per shroud. After that, you can't help but think about the fact that this amount, to each of these children and their families, is non-trivial.) Perhaps ironically, if you're used to the American method of making "documentaries" these days, Children of the Pyre gains its power not from the naked manipulation of the viewer, nor the gross exaggeration of the subject matter. If Jala is influenced by any Western documentarian, it is Errol Morris, whose be-as-invisible-as-possible style of filmmaking is all too rare in America these days. Perhaps, though, a closer parallel would be to Thai filmmaker Apichatpong Weerasethakul, despite his sole quasi-documentary, The Mysterious Object at Noon, eventually becoming so absurd that one would not be judged harshly for assuming it turns into a fantasy film halfway through. But Jala's film has that same sort of filmmaker-journeying-into-the-heart-of-darkness feel as Weerasethakul's, despite Jala's camera rarely moving more than a hundred yards. He just points, shoots, and lets these pubescent and prepubescent kids tell their stories, full of bravado (both false and true), hope that has somehow not been smothered by the caste system, and a strong-one could never say "burning"-desire to enjoy their childhoods for as long as possible despite the strenuous, not to mention morbid, nature of their work. Nancy Pearl, in her first book of recommendations, lamented that there are so few novels extant in which the work a character does takes center stage. The same is often true of film, but if you're looking for one, Children of the Pyre is pretty hard to beat. It is powerful, deeply affecting, and more often than not flat-out disturbing. A lot of American documentary filmmakers could learn a great deal about how to craft a documentary from Rajesh Jala. *** 1/2
Robert Beveridge
As a former documentary filmmaker, I found this film honest and well-made. It was confusing though and the boys' lives lacked complete context. Even a director's paragraph written in type at the beginning to explain that the bodies come from all over India, that families bring their own firewood, why shrouds are sacred, that the young boys are orphans or have families, (where are the girls, I often wondered) - all these early questions kept me from truly connecting with the film. The story needs to be told, and my heart breaks for children in this life. I just wish the filmmakers had given us some deeper context before telling this gripping story.
kellianne vallee
Discussion Forum
Discuss Children of the Pyre on our Movie forum!
News & Features