I bambini ci guardano (The Children Are Watching Us)
(1944)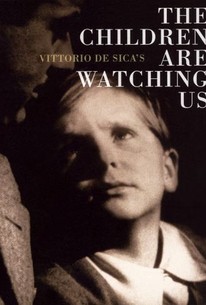 AUDIENCE SCORE
Critic Consensus: No consensus yet.
Movie Info
Moving drama of a couple's crumbling marriage, and the toll it takes on their young child. This landmark neo-realist film marks the first collaboration between writer Cesare Zavattini and director Vittorio De Sica.
Critic Reviews for I bambini ci guardano (The Children Are Watching Us)
Audience Reviews for I bambini ci guardano (The Children Are Watching Us)
½
The Children Are Watching Us is a film by Italian Neo-Realist director Vittorio De Sica which depicts the tumultuous upbringing of a four-year-old boy named Prico. When Prico's mother runs off with a lover his heartbroken father shuffles Prico around between relatives, never staying in one place for too long. At the end of the first half of the film (it being split into two sections) Prico's mother makes an uneasy return to the family. Tensions remain high, although in the second half of the film we learn that she has been more or less accepted back into the fold. When Prico and his family are on vacation at a beach-side resort, his father must return early to Rome on business. Prico and his mother remain at the hotel for a few extra days of leisure. It is not long before the old lover comes back, luring Prico's mother into another tryst which, this time, presents tragic results which close the film. When she returns after having run off for a second time, Prico, now enrolled at a Catholic Boarding School rejects any comfort which she is willing to impart upon the news of a horrific event. This is a beautiful little film with powerful emotions near the end. The performance of the young lead role is astonishing in his portrayal of a wide range of emotional highs and lows.
Jesse B
This "proto-neorealist" film made by Italian actor turned director Vittoria De Sica during World War II, is a heart-rending masterpiece. It was the beginning of the collaboration between the director and screenwriter Cesare Zavattini, who went on to make other remarkable films of the post-war Italian cinema together, including "The Bicycle Thieves" and "Umberto D." It tells the story of a young middle-class woman's adultery, which although she strives to be discreet, we witness through the eyes of her small son, Pricò (Luciano De Ambrosia). The allure of the forbidden is superbly played by actress Isa Pola. Such infidelity in fascist Italy was considered the gravest of moral transgressions, and the father's growing knowledge of his wife's weakness eventually puts the entire family at risk, as the situation spirals out of control. The father (Emilio Cigola) is not presented as a collaborative victim, as would probably be the case in modern cinema, but as a good and a loving father. Pricò is timid and sensitive and although the actions of his mother are incomprehensible to him, he senses that everything he holds dear, his happiness, security and family life are slipping away. Filled with humor, astute psychological observation, and social commentary, "The Children Are Watching Us" is only occasionally sentimental, and because the emotions seem real and flow naturally from the events of the story, when they do come to the surface, they have a particular intensity. If you've never seen this motion picture, you have a special treat in store; there are images that will probably haunt you for a long time: a tracking shot of the child running along a beach, sunlight fading on the water; the look on his face the morning he wakes to discover that the mother who tucked him in and kissed him the night before is no longer with the family; Pricò in tears, peering through the bannister of a staircase as he calls "Pappa, pappa!" as his father walks hurriedly away; and the final haunting shot as the boy cannot find the will to embrace his mother and turns away, preferring to remain in the isolation of a boarding school, knowing the life he has now lost can never be recovered. All of this reminds us of the power of sound and image, and the clear and direct connection between cinematic vision and the human heart, when it flows from the hand of master storyteller like De Sica.
Wayne Schenewerk
"The Children are Watching Us" is another emotion filled and beautifully filmed masterpiece by Vittorio De Sica, who also made the timeless "Bicycle Thieves". This is another small scale drama that is touching, genuine and timeless in it's story of a child who bears witness to his parents demise and even more tragic circumstances. I couldn't take my eyes away from the screen and Luciano De Ambrosis (as Prico) gives a completely believable performance and Emilio Cigoli as the child's father is truly devastating in his performance. I can't recommend this one enough, much like "Bicycle Thieves", is a wonderfully compelling and emotion filled work from a master Director who specializes in these type of films and is worth a watch for anyone who enjoys cinema!
Chris Browning
Super Reviewer
I bambini ci guardano (The Children Are Watching Us) Quotes
There are no approved quotes yet for this movie.
Discussion Forum
Discuss I bambini ci guardano (The Children Are Watching Us) on our Movie forum!