Chilly Dogs
(2001)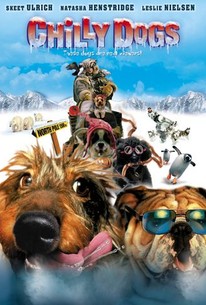 AUDIENCE SCORE
Critic Consensus: No consensus yet.
Movie Info
Idealistic travel agent Kevin Manley (Skeet Ulrich) quits his job and leaves the subtropical confines of his Southern Californian home when he's notified that he stands to gain an inheritance of 200 acres of Alaskan real estate from his late grandfather. There's a catch: He has to race in the Iditarod, the grueling 1,000 mile dog sled contest through the snowy Alaskan mountains. But there's another catch: A local attorney (Leslie Nielsen) knows the property is priceless and sets out to stop Manley from completing the race by having Carter, a crazed competitor (Rik Mayall), sabotage his dogs and equipment at every turn. What's worse, Bonnie (Natasha Henstridge), the lovely woman who teaches Kevin how to mush, finds out he's a Manley -- and their families are in a generations-old feud. Can Kevin and his team of mongrel mutts finish the race with so much going against them?
Rating:
PG-13
Genre:
, ,
Directed By:
Written By:
In Theaters:
On DVD:
Runtime:
Studio:
Universal Pictures
Critic Reviews for Chilly Dogs
All Critics (1) | Fresh (0) | Rotten (1)
What's the moral of the story? Keep away from any Skeet Ulrich movie that has chills, the north or anything frozen in its title.

Audience Reviews for Chilly Dogs
A dull unfunny comedy that is to crude for kids and to dumb for adults. Sad to see a talent like Leslie Nielsen involved in such a poor quality film.
Jonathan Porras
I truly don't find this movie worthy of any percentage above ten. For the well-being of others, and to provide shelter from the absolute rock-bottom of cinematography, I need to give this movie a completely accurate review. First and foremost, the slapstick was absolutely atrocious throughout. In fact, I can hardly say that they succeeded in conveying slapstick humor at all, which is troublesome, considering it is indeed the simplest method of obtaining laughs. A great indicator of an awful movie is when not even the most primitive form of comedy is achieved. Along with this strange hybrid of bad humor, the plot was also a prominent issue. It meandered along without the slightest direction, and finally ended sloppily in a cheesy and completely predictable way. Leslie Nielsen has certainly fallen from the graces, considering that he appeared in this awfully directed flick. His attempts at snide and clever commentary prove to be quite ridiculous and completely unnecessary. Also, Skeet Ulrich delivers a strange yet awful acting performance, and traces of failed Jim Carrey and Matthew Broderick mimicking attempts can be detected throughout. This film resembles a badly done high school video project, and I'd be surprised if an amateur member of the third period drama club couldn't deliver a more solid performance. If you're looking for awful slapstick, ghastly character developement, and an extremely flimsy plot, then Chilly Dogs is the movie for you. If you are searching for a decent use of two hours, then move right along. I am ashamed to have contributed at all to this movie's success, and hopefully others can now be hindered from making the same mistake.
Hanna Mills
Even when i was aware of how holed it was i was enjoying it anyway because i laughed out loud all the way trough. Cute and enjoyable.
Matthew James
Chilly Dogs Quotes
There are no approved quotes yet for this movie.