China Doll
(1958)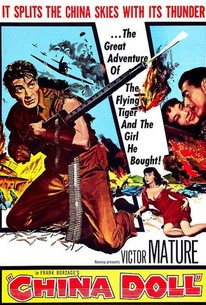 AUDIENCE SCORE
Critic Consensus: No consensus yet.
Movie Info
No one could ladle out sentimental schmaltz more effectively-or successfully-than director Frank Borzage. China Doll was the blacklisted Borzage's first film effort in ten years. Victor Mature plays American air force officer Cliff Brandon, who while stationed in the orient in WW2 marries his Chinese housekeeper Shu-Jen (Lili Hua). She is subsequently killed in the war, whereupon Brandon leaves their baby with strangers before he goes off on a bombing mission. Fifteen years later, Brandon returns to China, hoping against hope to be reunited with his now-grown-up daughter. Ward Bond costars as cagey missionary Father Cairns, while other supporting roles are filled by singer Johnny Desmond, Olympic athlete Bob Mathias, and up-and-coming leading man Stuart Whitman. After China Doll, Frank Borzage directed one more film--The Big Fisherman--before bringing his 45-year movie career to a close.
Audience Reviews for China Doll
This is meant to be a simple, enjoyable, humorous, emotional, and entertaining movie. And it fits that description to a "T". It is modest budget yet has a remarkable cast who develop their characters rapidly and well. Vic Mature's acting is better than normal, in my opinion, and Ward Bond, as always is the "glue" and scene stealer that he has been from his very first film. Borzage does not pay attention to aircraft and aerial detail although to the ordinary aircraft layman, the scenes are very realistic. It tells the story of an emotionally deprived captain, (we never truly find out what has caused this although other reviewers have stated it is because of the men he has lost doing his job which is training crews to drop supplies to the US behind enemy lines). Because of his problem, he drinks to keep it at bay and associates himself as a friend to very few people.....Ward Bond as Father Cairns is one. He awakes one morning and eventually, through the help of Father Cairns, finds that he has purchased the services of a young Eurasian girl for three months. His determination to keep her as only a housekeeper dissolves during a bout of malaria when he was delirious. The rest of the story should be saved for your enjoyment. Because that is what it will give you if you take it for what it is. The scenes before the ending have been criticized, but I found them to be exactly what I and any responsible and well trained service man would have done. Without giving the whole ending away, every member of his crew returns home safely "with his dog tags" which is a significant part of the film. Keith Payne
Keith Payne
½
With his later films, like China Doll and Moonrise, Borzage proved that he could take his themes of spiritual love and adapt them to fit the films of the time. He does this very well with China Doll, a surprisingly romantic war film. Like with Moonrise, Borzage manages to make it feel more modern for its time, while still working in his idealistic view on love that makes him my favorite director.
Katie Richardson
China Doll Quotes
There are no approved quotes yet for this movie.
Discussion Forum
Discuss China Doll on our Movie forum!