Sien nui yau wan (A Chinese Ghost Story)
(1987)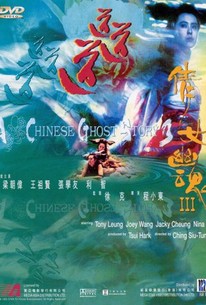 Sien nui yau wan (A Chinese Ghost Story) Photos
Movie Info
A student takes shelter in a nearly deserted temple where he meets and falls for a beautiful girl that is possessed by one of the many ghosts inhabiting the building. A poignant romance with moments of humor result in a climactic battle for the girl's soul.
Critic Reviews for Sien nui yau wan (A Chinese Ghost Story)
All Critics (9) | Top Critics (1) | Fresh (6) | Rotten (3) | DVD (3)
The kick you get from all this will depend on how exciting you find explosive exhibitions of extraterrestrial exercises.
Fantastic mix of comedy, horror, and romance.
September 2, 2002 | Rating: 5/5
One of the classics of the Chinese fantasy genre. required viewing for any fan of Chinese cinema.
August 8, 2002 | Rating: 4/5
Audience Reviews for Sien nui yau wan (A Chinese Ghost Story)
½
An odd, entertaining and very funny supernatural romance that blends horror and slapstick humor quite efficiently, with great special effects and a lot of style, even though the musical numbers are pretty embarrassing and the end is a bit frustrating.
Carlos Magalhães
Super Reviewer
½
A naive young scholar is seduced by a beautiful spirit and joins forces with a retired swordsman to return her remains home and free her soul for reincarnation. Produced by prolific Hong Kong director Tsui Hark, A Chinese Ghost Story contains all of his usual crowd pleasing ingredients of frenetic swordplay, slapstick and songs with an added dash of romanticism to create a comic supernatural pantomime that's heavy on over the top set pieces and light on narrative. It's a deeply silly excuse for exploding zombies, pretty girls flying around on wires and flurries of martial art violence that owes obvious debts to western films such as Evil Dead 2 and Poltergeist, presented with a more Eastern flavour. The characterisation is a blend of the usual HK action stereotypes and the plot next to non-existent, but it's all done with an innocent charm and sense of fun that stops it from descending into the cheap and nasty. Subtle it most certainly is not and technically speaking it's a bit of a mess, but the heroes are very likeable, as are the amusingly slapdash effects and the surreal finale set in the ghostly realm is visually inventive and fun.
Sien nui yau wan (A Chinese Ghost Story) Quotes
There are no approved quotes yet for this movie.