A Chinese Odyssey
(1996)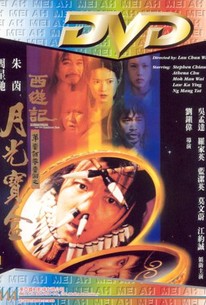 AUDIENCE SCORE
Critic Consensus: No consensus yet.
Movie Info
With a colorful combination of Chinese mythology, martial artistry and camp, this Hong Kong action/fantasy was created by splicing two full-length features together and the cutting 70 minutes from the final product. The results are, not surprisingly, chaotic at best. The main character is the free-wheeling spirit, the Monkey King who makes mischief and gets banished by the humorless Goddess of Mercy. Five centuries pass before he is reincarnated into a bandit king, the Joker. He and his crew live in a remote country inn. One day two devils, Boney M. and Spider Woman show up to the see the Joker. They know his true identity and this creates all sorts of trouble for Boney has loved him all along. Unfortunately, Cinderella, a relatively modern girl, is also in love with the disguised Monkey King who must now choose between the two.
Critic Reviews for A Chinese Odyssey
All Critics (1) | Fresh (1) | Rotten (0) | DVD (2)
This second installment satisfyingly concludes the epic story line begun in the original, in addition to providing many thrills and laughs along the way.
Audience Reviews for A Chinese Odyssey
½
"Journey to the West" by way of Stephen Chow--epic, crazy, nonsensical, action-packed, hilarious, brilliant. In addition to one of the funniest movies I've seen, there's some amazing cinematography and some beautiful music. Chow's Monkey King is a joy, and it's a fun reimagining of the epic Chinese folktale. Not to be missed.
Davey Morrison Dillard
A fresh adaptation of Chinese classic folktale "Journey to the West" by one of the most creative director/writer in Hong Kong, Jeffrey Lau. Stephen Chow as the Monkey. Outstanding mixture of nonsense gags and Chinese fantasy. Part One is just an introduction to the Part Two, but the ending which uses the idea of time-travel very well can give you goose skin. A good homage to classic wuxia movies especially ones by King Hu - The theme song of "Dragon Inn" is used effectively, and two-part structure of the movie (part 1 & 2) is also an homage to Hu's "Touch of Zen."
Naoya Kugimiya
Honestly a little confusing for someone not familiar enough with the Journey to the West story other than overall synopsis. This was still enjoyable to watch with the classic Chow slapstick comedy from the 90's coming through. The humor though was sometimes a little hard to translate into English and required a bit of explanation and re-translation of the subtitles by someone who actually speaks Chinese for me to understand (thanks Betty!). Overall worth seeing for fans of classic Stephen Chow cinema and the golden age of Hong Kong cinema in the 1990's.
Zachary Long
A Chinese Odyssey Quotes
There are no approved quotes yet for this movie.
Discussion Forum
Discuss A Chinese Odyssey on our Movie forum!