Chinese Torture Chamber Story
(1995)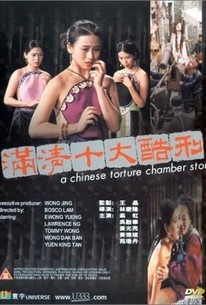 AUDIENCE SCORE
Critic Consensus: No consensus yet.
Chinese Torture Chamber Story Photos
Movie Info
Hong Kong filmmaker Bosco Lam directed this notorious Category III exploitation film from Wong Jing's Workshop which mixes outrageous physical humor, unusual softcore sex, and disturbingly sadistic gore and torture in a distinctly Asian manner. Notable is a kinky parody of the pottery wheel sequence from Ghost and an acrobatic sex scene between Elvis Tsui and Julie Lee which is played out as a slapstick martial arts battle in mid-air set to video game sound effects. The story line concerns the plight of Little Cabbage (Yvonne Yung), who is found covered with blood next to her husband's corpse. Little Cabbage's husband was Got Siu-tai (Tommy Wong), who was so incredibly endowed that his ingestion of a super-aphrodisiac caused his penis to explode, resulting in his death. Brought before a magistrate, Little Cabbage's story is related in flashback, showing how she was hired as a maid by a scholar called Yang Ni-mu (Lawrence Ng). Little Cabbage caught her mistress cheating on Ni-mu one day, and was promptly married off to Siu-tai, who rescued her from her former mistress' lover by beating him senseless in events precipitating his own later death by genital explosion. Yuen King-tan co-stars with Lee Siu-kei. ~ Robert Firsching, Rovi
Rating:
NR
Genre:
Directed By:
On DVD:
Runtime:
Cast
Critic Reviews for Chinese Torture Chamber Story
All Critics (1) | Fresh (1) | Rotten (0)
Uma combinação caótica de comédia erótica softcore, sado-masoquismo, wuxia pian, paródia e gore que acaba se tornando divertida graças ao seu charme trash.

Audience Reviews for Chinese Torture Chamber Story
Wacky Cat III ultra-violent sleazy perversity. You can expect gratuitous sadistic violence. Gratuitous perverse sexuality. And Gratuitous sadistic perverse sexual violence. At the heart their is a fairly effective, albeit painstakingly cheesy love story. And an exterior of completely devoid of any modicum of taste humour. While I applaud this movie for its complete lack of regard for classification or audience, it is a jarring experience which leaves the viewer unsure of how they sould be reacting to everything thats going on. I think the point is to just take it for what it is, and decide for yourself whether your disgusted or enjoying yourself. I for one definently did enjoy myself, which raises the question of whether I really am just a sick weirdo Whatever. I would only recommend this for the morally flexible. If you find yourself taking offence to things a lot of the time you would do well to avoid this, and any other Cat III film.
Ed Fucking Harris
Super Reviewer
½
This is a strange one. Its part shock, part comedy, part sexploitation, part drama, and two parts Hong Kong mayhem. Together all six parts combine to form the battle robot known as Chinese Torture Chamber Story. It goes like this. The protagonist, Little Cabbage, is plucked from her father's farm to become the maid of a wealthy scholar named Yang. Yang soon becomes quite fond of Little Cabbage and even goes so far as to say that he will make her his concubine. This, combined with the fact that Little Cabbage knows about her adulterous affair, infuriates the scholar's wife who marries Little Cabbage to Got while Yang is away. Yang returns and takes out his rage on his wife but it is too late. Got was chosen to be Little Cabbage's husband because of his gargantuan wedding tackle. It was thought that Little Cabbage would die on their wedding night but the story doesn't quite work out that way. From there it turns into a plot to frame Yang for the murder of Got who "stole" Little Cabbage away from him. When the framing plot succeeds it takes everything Yang's sister can do to convince the supreme judge to help out her brother who is scheduled for execution. Overall I'd say this movie is more wacky than erotic. It features a husband vs. wife flying forest gods love/fight scene that has to be seen to be believed. If there was a top 10 list of obscure / insane movie scenes, that scene would be on the list. It also has a scene which uses an instrumental version of Unchained Melody at an "awkward" time. Bobby Hatfield is spinning in his grave. If you're in the mood for a movie and you have no idea what to watch. You could do worse than this.
Kurt Astbury
½
Invincible wheel! Silly, pointless shock film with oodles and oodles of softcore sex. Worth it for the much discussed Forest Gods sex scene.
Chinese Torture Chamber Story Quotes
There are no approved quotes yet for this movie.
Discussion Forum
Discuss Chinese Torture Chamber Story on our Movie forum!