Chipmunk Adventure
(1987)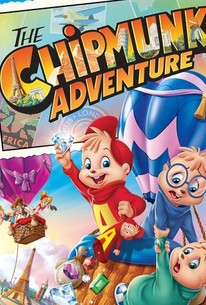 Chipmunk Adventure Photos
Movie Info
Join Alvin, Simon, and Theodore as they graduate from their weekly TV adventures to the big screen in the exciting, feature-length animated tale The Chipmunk Adventure. The three boys use a clever scheme with a tape recorder to trick their babysitter, Rebecca Miller, into letting them out of the house. The Chipmunks con the woman into believing that David Seville has granted them permission to set off on a trek around the world, in pursuit of the diamond smugglers Claudia and Claus. Of course, the boys make a point to solicit help from their female friends, The Chipettes, who excitedly agree to tag along on this globe-charting odyssey. A musical to boot, The Chipmunk Adventure features the boys singing such numbers as "Diamond Dolls," and the rollicking and rousing "Woolly Bully."The Chipettes join in as well, with the memorable tune "The Girls of Rock 'n' Roll."
News & Interviews for Chipmunk Adventure
Critic Reviews for Chipmunk Adventure
Audience Reviews for Chipmunk Adventure
½
Props to Janice Karman because The Chipmunk Adventure is one enjoyable animation.
The plot is an amusing one as it takes the Chipmunks and Chipettes, each with their own personalities, on a trip around the world; all the while turning it into a battle of the sexes adventure. The story allows for many scenery changes and amusing predicaments for the characters to get into. The film is also a brief 75 minutes, which is acceptable for what transpires, but there is the potential for more to be done with it. It has been said that the film was cut short due to time constraints to complete the project and that's a true shame.
This picture wouldn't be the same without the musical numbers and there are a number of them to be had. They are quite brief, but they are catchy and fitting to the scenarios when they occur.
Ross Bagdasarian Jr. and director Janice Karman provide the high-pitched voices for the Chipmunks and Chipettes, while a few others voice the antagonists and other supporting characters.
The Chipmunk Adventure is an easy going 2D animated adventure. Harmless fun.
I loved watching Alvin and the Chipmunks on TV when I was a kid, and this movie of theirs was so totally awesome to me as a kid too. It's much better than the new Chipmunks movie.
½
Good God. This is cinematic karma for not having seen any movies in a week - I had to sit through this for the second time in a year. Two times too many.
Drew Smith
Super Reviewer
Chipmunk Adventure Quotes
There are no approved quotes yet for this movie.