Chopin: Desire for Love
(2003)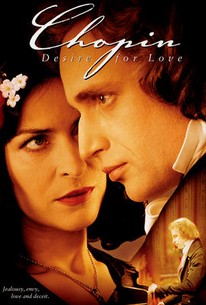 AUDIENCE SCORE
Critic Consensus: No consensus yet.
Chopin: Desire for Love Videos
Chopin: Desire for Love Photos
Movie Info
Award-winning Polish filmmaker Jerzy Antczak directed this historical drama which focuses on the meeting of two remarkable minds. Fryderyk Chopin (Piotr Adamczyk) was earning a reputation as both a music genius and an imperious, self-important man when he met Aurore Dupin (Danuta Stenka), a beautiful but strong-willed woman who wrote about issues of gender equality under the pen name of George Sand. Chopin and Dupin entered into a passionate but volatile love affair, and their affection for one another was tempered by Chopin's arrogance and Dupin's unwillingness to compromise. The soundtrack for Chopin: Desire for Love includes performances of Chopin's music from Yo-Yo Ma, Emanuel Ax, and other noted classical artists. ~ Mark Deming, Rovi
Rating:
R
Genre:
, , ,
Directed By:
Written By:
In Theaters:
On DVD:
Runtime:
Studio:
Pioneer
Audience Reviews for Chopin: Desire for Love
:rolleyes: Blockbuster Rental [url="http://www.rottentomatoes.com/m/chopin_desire_for_love/gallery.php"][img]http://images.rottentomatoes.com/images/movie/coverv/12/233512.jpg[/img][/url] [b]My Review:[/b] I know nothing about Chopin, nor his music; however, I found this film to be mildly interesting as a period piece in the early to mid 1800's in Warsaw, Paris, Mallorca, Barcelona and Marsaille. It depicts Chopin as a chronically ill, selfish, and rather sad figure. I found George Sand, the author and love of his life, if portrayed accurately, to be conflicted. She may have been in love with Chopin over the long term, but she seemed to easily give him up for the sake of her son, and disappointed her daughter in the process. But there was little character development. I would have liked to have better understood these people and their motives. Chopin was obviously a genius and this contributed to his obsession with his music. Coupled with the fact that he knew he was gravely ill, it seems perfectly understandable that music should be the main focus in his life. It seemed odd to me that Sand, his older, wiser lover, didn't get it. Interestingly, the actors in this movie seemed to physically resemble the real life Chopin and Sand. This movie didn't require subtitles, a nice change. [font=Times New Roman][b]SYNOPSIS:[/b][/font] CHOPIN focuses on an affair between legendary musician Frederic Chopin, and feminist scribe Aurore Dupin (AKA George Sand). The relationship showed a side of Chopin not often recognized by music lovers, and Antczak chronicles the trouble he caused to both his family, and ultimately to Sand in this painful portrayal of a talented man who was a slave to his own passion.
XXX --------
½
This is a period piece in the genre of Artist as Very Screwed-Up Person. Nothing wrong with that in itself -- it's just too bad it was done so poorly. The [url="http://www.rottentomatoes.com/vine/showthread.php?t=404423#"]movie[/url] starts out fairly strong, as we get introduced to Chopin, his father, and an extremely weird tinpot dictator of some dukedom in early 19th century Poland, causing Chopin to move to seek his fortune in Paris. But once Chopin falls for the entreaties of love by 19th-century proto-feminist author George Sand, and joins her and her children, the movie devolves into pure melodrama of a very very dysfunctional family. The costumes are great, the movie is pretty to look at, and the music is wonderful -- except that it serves as nothing but backdrop -- in no way is this a story about the relationship between Chopin and his art, a la [i]Ray[/i]. But the plot is hard to follow and in the end utterly ridiculous. Although it wasn't impossible to watch, why bother?
Larry Letich