Christmas in August
(1998)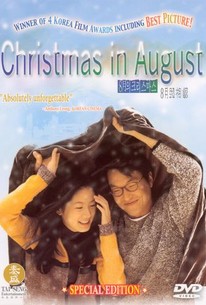 AUDIENCE SCORE
Critic Consensus: No consensus yet.
Christmas in August Photos
Movie Info
Jung-Won is a photographer who runs a small studio in Seoul in this Korean drama. Da-Rim is a young meter maid who approaches Jung-Won to request his services. They make an unlikely twosome, but a friendship does develop. However Da-Rim does not know that Jung-Wong has a terminal illness.
Rating:
NR
Genre:
Directed By:
Written By:
On DVD:
Runtime:
Critic Reviews for Christmas in August
All Critics (1) | Fresh (1) | Rotten (0)
Unfortunately, the film's cloying score trickles through scenes like sap . . . works best when circling quietly around its characters and attuned to the dying strains of faded romance.
Vue Weekly (Edmonton, Canada)
Audience Reviews for Christmas in August
½
Sometimes simplicity can be a much finer art form than an over saturated, overproduced mess and this Korean film takes a simple love story and digs in to the heart and soul of relationships. On a shoestring budget it shows us how a great story can make us forget about everything else. The love story follows the lead character, portrait photographer Jung-Won and his blossoming relationship with a young woman Da-rim who stops in his store. The catch to their relationship (and the entire movie for that matter) is that Jung-Won is dying of an unspecified illness but doesnâ(TM)t tell anyone of the fact that it is life threatening because he does not want to burden them with it. Instead he chooses to continue his life as is while subtly putting his affairs in order. He allows his relationship to blossom and continues to run his business as if nothing is going to happen, letting Da-rim grow closer to him. I canâ(TM)t use the word subtle enough to describe some of the scenes that are just devastating as a viewer. In one scene Jung-Won is trying to show his father how to use the VCR (a task his father has come accustom to Jung-Won doing for him) and after several minutes of frustration with his father not grasping the instructions, Jung-Won storms out of the room to his fatherâ(TM)s bewilderment. His father has no clue what is tormenting Jung-Won and we are shown some of the internal struggles that Jung-Won is having. It isnâ(TM)t till over half way through the film that Jung-Won in a drunken state announces to a friend that he is suffering the illness and we see the emotional state of Jung-Won make a big shift. Avoiding the heavy-handed pitfalls of most Hollywood films, this sad story unravels and tugs at your heart-strings up until the very last frame but doesnâ(TM)t force it down your throat. The only negative I have to say about the film (and this would be really nitpicking) is that at times it can be a little rough around the edges in terms of editing but it doesnâ(TM)t draw you away from the great story. I would much rather see a low-budget movie with a great story than a mega budget film devoid of the common human touch (coughâ¦â¦.coughâ¦â¦.Avitarâ¦â¦.). Christmas In August has become one of my favorite Korean films and it really helped push a modern wave of Korean directors into the spotlight with a unique brand of storytelling. This movie is a must see!
FirstOrderHistorians Koz Cal
½
This film was amazingly heart shaking, and showed very sad but warm view toward life in Korea. I thought we as foreigners would not understand this delicate feeling and under rate this quiet film as a boring one, But I was wrong. This was without a doubt, one of the most accomplished films for any director. The film was only 90 minutes long, but managed to say just everything about life and death. Not much action, and dialogue was minimal, but the movie flowed perfectly and demands your attention due to the wonderfully natural feel of everything going on. The performances by the leads were perfect, and even some supporting characters get strong emotional scenes. This film made you realize that life is fragile and short. and a view for better understanding how precious life is.
Daisy Maduro
Super Reviewer
One of my favorite movies. I gave it 5/5(1 more than most people) because I had some demons this movie helped me deal with.
Andrew Trapani
Christmas in August Quotes
There are no approved quotes yet for this movie.