Christopher Robin
(2018)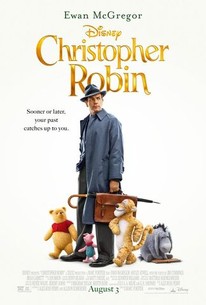 TOMATOMETER
AUDIENCE SCORE
Critic Consensus: Christopher Robin may not equal A.A. Milne's stories -- or their animated Disney adaptations -- but it should prove sweet enough for audiences seeking a little childhood magic.
Movie Info
In the heatwarming live action adventure "Disney's Christopher Robin," the young boy who loved embarking on adventures in the Hundred Acre Wood with a band of spirited and loveable stuffed animals, has grown up and lost his way. Now it is up to his childhood friends to venture into our world and help Christopher Robin remember the loving and playful boy who is still inside.
News & Interviews for Christopher Robin
Critic Reviews for Christopher Robin
Audience Reviews for Christopher Robin
Disney has always been known to hold on to the material that made them famous in the first place. Lately, their trend has been taking their classic properties and turning them into live-action versions to showcase them for the younger audiences of today. My only issue with that is the fact that it would get pretty tiresome if every single classic was directly translated to the big screen in live-action form. The Jungle Book and Cinderella are two examples of having this plan work very well, but doing the same thing for every film just doesn't show any kind of originality whatsoever. Thankfully, movies like Christopher Robin are made once in a while, because it feels like a breath of fresh air. This latest live-action Disney film is easily going to be one of my most memorable theatre experience of the year, simply due to the fact that I was grinning from ear to ear from start to finish. Here's why I recommend Christopher Robin to all ages. After growing apart from Pooh and his friends, Christopher Robin eventually grows up, moves to London, England, and shares his life with his wife and young daughter. Having a stressful daily routine and a family who seems to think he's forgetting them, Pooh visits him and sends him on a journey of self-discovery and one of the true meanings of life. Not only is this a great eye-opener for parents, but also a fun movie for kids to feast their eyes on when each of the classic characters are bumbling around on-screen. Not only is it great for all ages, but it's the first real kid's movie in a while that's directed at adults (at least to me). Where the movie may earn gripes from some viewers is within its overall execution. It's a family friendly movie so it's not going to get too serious, so some viewers are definitely going to find this movie to be as predictable as they come. Yes, that's easily the weakest portion of this film as a whole. You know where it's going to lead, and it eventually does just that and not too much more; but what's wrong with a simplistic feel-good story if it's done in a special way? If a simple film can be made as an effective piece of storytelling, then I truly believe it deserves to be in discussion with movies that have far more complex narratives. Christopher Robin is filled with lines of dialogue that warmed my heart on numerous occasions, and I just found myself either smiling or tearing up throughout the majority of the film. It brings back childhood memories for those who are now adults, while also providing a deep enough story for kids to latch onto without losing interest. The tone of the movie may slightly bore a younger audience, but it's easily made up for by the fun nature in which the classic characters are displayed on-screen. Overall, Christopher Robin takes the best parts of its source material, updates it for a modern age, and does so by also taking the time to tell a heartwarming and compelling narrative. This is a very enjoyable movie for all ages, and I feel that it may be shown to kids in the foreseeable future, whether at school or at home. The life lessons here are truly something special. Yes, the plot is utterly simple, and it goes in every direction you think it will, but the fact that it's tastefully executed was enough to get me on board. It's nothing groundbreaking, but I do highly recommend checking out Christopher Robin.
Christopher Robin Quotes
There are no approved quotes yet for this movie.