Chronicle of an Escape
(2008)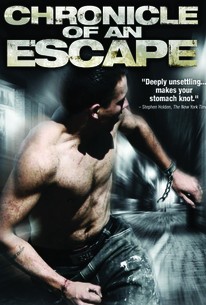 Chronicle of an Escape Photos
Movie Info
The true story of four men who narrowly escaped death at the hands of Argentina's military death squads during the 1970s is brought to the screen in this thriller. In 1977, Claudio Tamburrini (Rodrigo de la Serna) was a goalie for a minor-league football team when he was abducted by members of the Argentine military police and taken to an unofficial detention center on the false suspicion that he was a terrorist. Over 30,000 people lost their lives at the hands of Argentinean authorities under the military junta that ruled the country between 1976 and 1983, and as he was tortured by intelligence agents looking for information he didn't have, Tamburrini fully expected to become another victim. After many sessions of brutal torture, Tamburrini and his fellow captives Guillermo (Nazareno Casero) and Tano (Martin Urruty) were being readied for execution when, in a final desperate act, Tamburrini dove out a window during a rainstorm. Guillermo, Tano, and another man followed, and the four, naked and with noting but their wits, began a desperate run to freedom. A major box-office success in Argentina, Crónica de una Fuga (aka Chronicle of an Escape and Buenos Aires, 1977) received its North American premier at the 2006 Toronto Film Festival.
Rating:
R (for brutality and torture, nudity and language)
Genre:
,
Directed By:
Written By:
In Theaters:
On DVD:
Runtime:
Studio:
News & Interviews for Chronicle of an Escape
Critic Reviews for Chronicle of an Escape
Audience Reviews for Chronicle of an Escape
Lucas Martins
Super Reviewer
½
Very engrossing film based on a true story. The scenes during the captivity were so well done...right up to the escape attempt scene where I found myself gripping my chair (very tension filled). Watching a movie like this only makes me love living in America more. Many people take for granted how lucky they are to live here. Not me. I know how lucky I am...
Cynthia S.
Super Reviewer
[font=Century Gothic]"Chronicle of an Escape" starts in 1977 Argentina following a military coup. Roving bands of secret police are snatching suspected terrorists off the street on the flimsiest evidence while also liberating suspicious looking electronics like stereos and televisions. One of these is Claudio Tamburrini(Rodrigo De la Serna), a soccer player, who is named by Tano(Martin Urruty) in an effort to gain time for his comrades.(Claudio gives up his seat to a pregnant woman on a bus which is an indication of what kind of person he is.) He is found after the location of his new apartment is forced out of his mother. Once at headquarters, Claudio is tortured but knows nothing which he is told will only stall his case. But hopefully he will be released by Christmas...and somewhere Kafka is smiling ruefully.[/font] [font=Century Gothic][/font] [font=Century Gothic]Based on an incredible true story, "Chronicle of an Escape" is a smartly taut political thriller with overtones for the current day. Notice how casually the word terrorist is bandied about and how torture is used. If somebody is tortured and brutalized, they will say anything to stay alive and give time for their comrades to escape.(Nobody wants to die. Everybody wants to live.) It does not get the police anywhere in their so-called investigations while picking up innocent people in the dragnet, proof that being non-political will not keep a person safe. Lucas, the squad's leader, recognizes this and occasionally treats his prisoners courteously. What torture does manage to do is to keep the general population afraid. It is all about power.[/font]