Chu Chin Chow
(1934)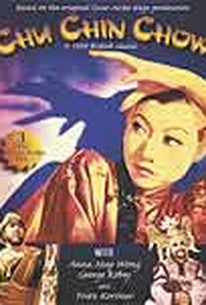 AUDIENCE SCORE
Critic Consensus: No consensus yet.
Movie Info
The timeworn British stage musical Chu Chin Chow had already been made into a silent picture when this talkie version made its bow in 1934. Based on Ali Baba and the 40 Thieves, the film stars corpulent music-hall comedian George Robey as Ali Baba, sinister Fritz Kortner as robber captain Abu Hahan, and exotic Anna May Wong as slave girl Zahrat, who saves Ali's life by properly applying oil to a collection of not-so-empty barrels. The obligatory romantic subplot is handled by John Garrick and Pearl Argyle, while comedy relief is supplied by a vaudevillian named Jetsam (that's right, of the team of "Flotsam and...") Director Walter Forde does little to "cinematize" the old property, which is just as well. Originally released at 93 minutes, Chu Chin Chow was shorn of about 5 minutes before its American release; presumably some of the sexier "nautch" dances were among the excised scenes. ~ Hal Erickson, Rovi
Critic Reviews for Chu Chin Chow
Audience Reviews for Chu Chin Chow
[center][img]http://www.aucegypt.edu/academic/anth/anth400/new_pa8.jpg[/img][/center] (DVD) (First Viewing, 1st Forde film) Until the mid 1950's, the most successful stage play to ever run in England was "Chu Chin Chow," a lavish adaptation of the Ali Baba and the 40 Thieves legend. In 1934, it was made into a huge, overblown film with little reworking, meaning that in some ways, CHU CHIN CHOW is a time capsule, capturing (intentionally or not) the sensibilities and creative values of another time in history. I think that's an essential approach to take when watching CHU CHIN CHOW, because to modern eyes and ears, this seems like an overblown, ridiculously hokey mess of a movie. It contains almost zero cinematic awareness (it's essentially a stage performed before a camera), and the heavily-gestured acting style and stylized way of speaking is an obvious hold-over from stage and silent film acting techniques. That's not to say anything of the ridiculous way Muslims and people of Arabic origins are depicted by English actors (complete with foot-high turbans, child-like comprehension skills and a habit of yelling "Allah!" in moments of fright or surprise) which at times borders on offensive. All of this demonstrates that even as last as the first half of the 20th century the idea of the Middle East laden with silks, spices, monstrous stashes of gold and writhing, half-naked female slaves was as widespread and accepted as it had been when it inspired de Gama and Columbus to set out in ships to collect these precious commodities for the Western World. But at the same time, it also shows the appetite for the sumtuous, exotic and the overblown at this time between the World Wars, when financial hardship was widespread. Perhaps then the overwhelming success of CHU CHIN CHOW is not so much a demonstration of how tastes in entertainment has changed over the years, but of the enduring desire to be entertained. There is one particular redeeming aspect of CHU CHIN CHOW that cuts through the historical static and still contains a raw power to this day, and that is Anna May Wong. Wong, an intelligent and by all account massively talented star of Asian descent (Hollywood's first), left Hollywood for Europe to search for roles beyond the exotic vamp she had been typecast as. She is the only actor in CHU CHIN CHOW who possess any awareness of how to act for the camera, and her role, though rather limited, still has a raw sexiness and erotic pull that still packs a punch today. It is no wonder that Wong has been experiencing a recent critical renaissance, and that CHU CHIN CHOW is now being chiefly marketed as an Anna May Wong film. It should also be noted the VCI Entertainment has done a knock-out job on bringing this film to DVD, giving it a Criterion-like treatment. It's a three-disc set with the original British cut (which I watched), an edited American version and a full disc of extras (which I'm still working through). So what does one make of this film? It's not good, but in its own way, its historical importance is undeniable. Fascinating, bizarre, and really, quite bad, but in a good way.
Jesse Last
Chu Chin Chow Quotes
There are no approved quotes yet for this movie.
Discussion Forum
Discuss Chu Chin Chow on our Movie forum!