Chuck Berry: Hail! Hail! Rock 'n' Roll
(1987)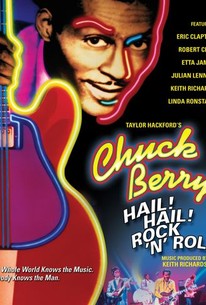 Chuck Berry: Hail! Hail! Rock 'n' Roll Videos
Chuck Berry: Hail! Hail! Rock 'n' Roll Photos
Movie Info
Hail! Hail! Rock 'n' Roll features a concert organized to celebrate the 60th birthday of Chuck Berry. The show was filmed in Berry's hometown of St. Louis, MO, in 1987. Highly respected by fellow musicians and music fans alike, many consider Berry to be the father of rock & roll. Fellow musicians paying musical homage to Berry on his birthday include: Bo Diddley, Little Richard, Roy Orbison, The Everly Brothers, Eric Clapton, Linda Ronstadt, Keith Richards, and Bruce Springsteen.
Critic Reviews for Chuck Berry: Hail! Hail! Rock 'n' Roll
Audience Reviews for Chuck Berry: Hail! Hail! Rock 'n' Roll
Excellent documentary about Chuck Berry's life. I liked how he explained the story about all his hits and it showed him practicing with Keith Richards. Didn't like hearing John Lennon's son singing Johnny Be Good.
Bruno Lot
a little too self-congratulating in the 'documentary' scenes, which are almost shot more like scenes out of a regular narrative film (Hackford usually doesn't make docs anyway), but it does grab a good feel for the period that it comes from in the 1950's. And of course the music is all made of win.
Jack Gattanella
½
Great true-to-life documentary about Chuck Berry's concert life and his 60th birthday St Louis celebration. I'm slightly annoyed by his unpolished guitar talents but his songs have withstood the test of time - a mark of influential songwriting. Clapton, Richards, Lennon and the other celebrity interviews are funny - the performing guests even tease 60-year-old Chuck and his half-assed attitude. In the film, Berry plays terribly over dozens of tracks while his celebrity-studded backup band carries him through. I admire his songwriting skills, but I'd rather listen through the performances with Berry's guitar backline muted.
Chuck Berry: Hail! Hail! Rock 'n' Roll Quotes
There are no approved quotes yet for this movie.
Discussion Forum
Discuss Chuck Berry: Hail! Hail! Rock 'n' Roll on our Movie forum!