A Chump at Oxford
(1940)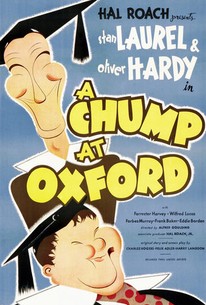 AUDIENCE SCORE
Critic Consensus: No consensus yet.
Movie Info
Back at Hal Roach Studios for the first time since 1938's Block-Heads, Stan Laurel and Oliver Hardy star in the uneven but generally rewarding A Chump at Oxford. The boys are cast as street-sweepers who hope to better their lot in life by attending night school. Fate intervenes when Stan and Ollie are instrumental in the capture of a bank robber, whereupon they are rewarded by the bank's grateful president (Forbes Murray) with an all-expenses-paid education at England's Oxford University. Arriving on the venerable old campus dressed in Eton jackets, our heroes are pounced upon by a group of prankish students and subjected to all manner of practical jokes. After spending most of the night trying to escape from a maze, Stan and Ollie are installed in their "new quarters"-which turns out to be the bedroom of the Dean (Wilfred Lucas). This sort of collegiate nonsense comes to an end when it is discovered that simple-minded Stan is actually Lord Paddington, the brainiest student and finest athlete that ever attended Oxford. According to Meredith the valet (Forrester Harvey), His Lordship wandered away from the university upon being rendered an amnesiac by a blow on the head. An accidental tap on the noggin restores Stan to his aristocratic Lord Paddington status, whereupon he beats up a crowd of bullying students and deposits them one by one in a nearby ditch. Though Ollie is aghast to learn that Stan-er, His Lordship-has no recollection of their previous friendship, he decides to stay on at Oxford as Paddington's manservant. After having been humiliated once too often by his vain and condescending employer, Ollie angrily packs his bags and prepares to head for home, when yet another bop on His Lordship's skull causes him to revert to lovable, bumbling old Stan again. Originally intended as a four-reeler (running approximately 45 minutes), A Chump at Oxford was completed in the spring of 1939, whereupon Laurel and Hardy were loaned out to producer Boris Morros to star in The Flying Deuces. When shooting was finished on the latter film, the team was summoned back to Roach to film a 2-reel "prologue" for Oxford, bringing the film's running time up to 63 minutes. The new footage consisted of a reworking of the boys' 1928 comedy From Soup to Nuts, with temporary servants Stan and Ollie unintentionally wrecking a dinner party held by Mr. and Mrs. Vandevere (played by veteran L&H supporting players James Finlayson and Anita Garvin). The patchwork stucture of A Chump at Oxford works against its overall effectiveness, but the scenes in which Stan Laurel undergoes a complete change of character as the genius-level Lord Paddington more than make up for the film's earlier shortcomings. One of the students (the tall, mustachioed one) is played by Peter Cushing, in his second Hollywood film appearance.
Critic Reviews for A Chump at Oxford
All Critics (3) | Fresh (3) | Rotten (0)
Near the top of the hilarity meter of Laurel and Hardy greats.

Good Laurel and Hardy vehicle, but far from their best.

Mountain Xpress (Asheville, NC)
Audience Reviews for A Chump at Oxford
½
This short comedy film has Laurel and Hardy scrounging around for work and they masquerade as a maid and butler in a well-to-do home. As expected they cause loads of trouble and skip out. Next they are a pair of street sweepers who come upon some luck while on break. They unwittingly capture a bank robber and they are soon rewarded with a free education at Oxford. There they are met with a group of haughty Oxford snobs who cannot wait to mess with the new arrivals. The ensuing moments include getting lost in a maze, dizzy spells, run-ins with the Dean, and a chance encounter with Oxford athletic hero Lord Paddington, who shares an uncanny resemblance to Stan. Despite all the ups and downs, Stan and Ollie make it through and they succeed in making this comedy quite funny.
Four Star Film Fan
½
A light comedy from Laurel and Hardy, the two are out-of-work and down on their luck til one day they happen to foil a bank robbery. The bank president offers to put them through school to "better themselves" so the two travel to merry old England and enroll at Oxford. Most of this film didn't work so well for me, it moves at a fairly slow pace (they spend about ten minutes of the movie lost in a topiary maze) and at a running time of 65 minutes, you'd think the pace would be flying by. There are only 3 set pieces to the movie: the scene where the two get jobs as a maid and butler (and all the hilarity that comes with them being classless oafs at a millionaires mansion), the scene where they're lost in the maze, and the ending, where Stan gets hit on the head and recovers his old memory of being "Lord Paddington", star of Oxford. This final scene is actually the best in the movie, as Lord Paddington is the exact opposite of Stanley: he's intelligent, strong, athletic and not afraid of anything (when he gets mad and ready to fight, his ears wiggle, and he beats up dozens of troublemakers). Lord Paddington even allows Olly to hang around, as his boy, "Fatty". But the last ten minutes aside, this plays out more like an average 3 stooges short rather than the other classic Laurel and Hardy movies that everyone should see.
Devon Bott
½
I think his is the best movie they've done, period. When I'm watching this, there is never a spot where I'm not laughing out loud or chuckling. My face hurts everytime I watch this move.
Bryce Post
A Chump at Oxford Quotes
There are no approved quotes yet for this movie.
Discussion Forum
Discuss A Chump at Oxford on our Movie forum!