Chupacabra Terror
(2005)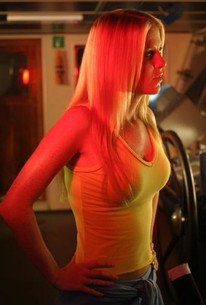 AUDIENCE SCORE
Critic Consensus: No consensus yet.
Movie Info
In this made-for-cable horror story, Dr. Peña (Giancarlo Esposito) is a scientist with a passionate interest in the chupacabra, a South American creature similar to the North American Bigfoot or Yeti. While many believe the chupacabra is a myth, Peña is convinced the beast truly exists, and he sets out to find it. Peña succeeds in capturing a living chupacabra in the Caribbean, but discovers the animal is stronger and more dangerous than he expected -- it's strong, has a violent nature, and can withstand tremendous punishment. Nevertheless, Peña goes ahead with his plan to take the chupacabra to the United States, and sneaks the beast on board an ocean liner headed for America. As bad luck would have it, the monster escapes from its cage, and begins killing the passengers at a feverish pace. Now Randolph (John Rhys-Davies), the ship's captain, is seemingly the only one who can subdue the chupacabra and bring the ship home.
Rating:
R (violence/gore)
Genre:
Directed By:
Written By:
On DVD:
Runtime:
Studio:
Sony Pictures Home Entertainment
Critic Reviews for Chupacabra Terror
All Critics (2) | Fresh (0) | Rotten (2)
The sets look like plaster, the actors look like accountants, and the monster looks like the 9th place winner at your local Halloween Ball.

And then there's the chupacabra itself, which couldn't possibly look more like a guy in a rubber suit.

Audience Reviews for Chupacabra Terror
This movie has a lot of wrong in it like crappy acting, bad effects, cheap sets, and an uninspired plot. However, it has this schlocky charm to it that lends to it being watchable in that goofy monster movie fashion. Having the chupacabra be a guy in a suit was amusing and there's some solid gore. Pros: More Chelan Simmons goodness, schlocky fun, good gore Cons: Bad acting, cheap sets, bad effects
Omar Maldonado
It wasn't too bad. Characters aren't all that great and the ending wasn't too good, but the creature effects were rather nice for a Sci-fi channel film and there were some good kills and a lot of monster action even though the entire film takes place on a ship. Decent enough.
Wes Shad
Okay, SERIOUSLY!!!! Who...what... umm... Did anybody out there actually think this movie was good. John Rhys-Davies, what on earth where you thinking? I love that everyone attempted to kill the chupacabras with bul
Zita Flores
Chupacabra Terror Quotes
There are no approved quotes yet for this movie.