Chupacabra vs. the Alamo
(2013)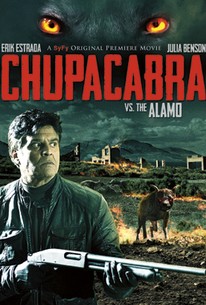 AUDIENCE SCORE
Critic Consensus: No consensus yet.
Chupacabra vs. the Alamo Videos
Chupacabra vs. the Alamo Photos
Movie Info
A DEA agent (Eric Estrada) investigating drug cartel violence in San Antonio fights a pack of vicious Chupacabras that have taken over the Alamo. ~ Jason Buchanan, Rovi
Rating:
NR
Genre:
, ,
Directed By:
Written By:
In Theaters:
Runtime:
Studio:
ARO Entertainment
Audience Reviews for Chupacabra vs. the Alamo
Sometimes the bad movie Gods send a gift my way and I bump into it while I am flipping channels - and sure enough - I saw the fucking Ponch himself playing a DEA agent surrounded by the most stereotypical mexican stereotypes ever found on film as his backup all ready to hunt and kill an entire horde of Chupacabras ( who knew there was more than one ) who had taken over the Alamo - yes - I do get the irony of something originating from Mexico attacking the Alamo.....I mean - the words Remember The Alamo are said at one point in the movie - absolutely terrible brilliance. Ponch is here keeping his wig from falling and over acting the living hell out of each and every scene with shotgun in hand and what it appears to be an endless supply of bullets as he never once reloads this thing the entire movie lol. And he has half the cast of Los Vatos Locos as his team where he goes and hunts the chupacabras and after being overwhelmed by them - they make a run for The Alamo - in gloriously terrible green screen super imposed CG so bad it almost made me want to quit HD viewing lol. The Chupacabras themselves looks like Chihuahuas I am surprised one didn't look at the screen and said yo quiero taco bell or heeerreee lizzaarrdd lizzaarrdd lizzzaarrrdd. Watch it only if you have nothing else going or if you are like me and must endure these movies so we can warm the world about them lol.
Ozzdeath Souldeath
How many times have you been watching a movie and said, "I love all the chupacabras in this movie but it could really use some American history." Well today is your lucky day. This delightful tale features Erik Estrada pushing his thespian limits by playing a cop who rides a motorcycle. Or, more accurately, he sits on a stationary motorcycle in front of a video of roadside footage. Anyway, what would any good God-fearing Texans worth their salt do if a whole mess o' chupacabras came down from the hills to chew on the townspeople? They would hole up in the goddamn Alamo, that's what! Best quote: "We got chupacabras up in here!"
Aaron Baker
This should have been called Bad CGI Chupacabra vs Ponch On Bad Green Screen. The "special" effects were amazing...ly bad as well. That all being said, there were elements that were entertaining, there was a small amount of gore and plenty of humor, both intentional and not. The Alamo tour guide was fairly awesome. He made this one more tolerable for me.
Gaspar Oot
Chupacabra vs. the Alamo Quotes
There are no approved quotes yet for this movie.