Cinderella 2000
(1977)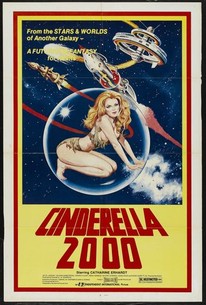 AUDIENCE SCORE
Critic Consensus: No consensus yet.
Cinderella 2000 Photos
Movie Info
This soft-core, tuneful retelling of the enduring romantic fairy tale from Al Adamson is set in the year 2047, a time when men and women are not allowed to touch and the only way to have sex is via computer. In this version, Cinderella meets her charming prince at an orgy. The two click and have a wonderful time, but she must leave. Unfortunately, she forgets something (no, not a shoe). Now the smitten prince must intimately "search" a number of young women to find his true lover. Songs include "Doin' Without" and "We All Need Love."
Rating:
R
Genre:
Directed By:
In Theaters:
On DVD:
Runtime:
Cast
Critic Reviews for Cinderella 2000
There are no critic reviews yet for Cinderella 2000. Keep checking Rotten Tomatoes for updates!
Audience Reviews for Cinderella 2000
Evidently trying to capture some of the mad glory runoff that followed Rocky Horror - how else can you explain this garish low-budget softcore Cinderella-in-space musical comedy? Totally out there and enjoyable to an extent for its perversely bizarre nature, fans of Rocky Horror and Forbidden Zone will get the most out of it. (You weirdos.)
Doctor Strangeblog
Super Reviewer
½
We're all familiar with the classic fairytale of Cinderella, right? Well apparently not since the people behind this odd, campy, musical version of Cinderella decided to tell their own perverted version of the fairytale. Since this weird spin on the Cinderella is too weird to summarize, I'll take you through it from how I watched it. So it opens with a musical number and sounds like rejected songs from the 80s. So right of the bat you can tell it's not going to be anything like the fairytale. The lyrics sound like random sentences put together, I mean why would anyone write "So here in civilization 2000, 2000. Will we find love. We will be free?". While the opening theme is bad, it's fun to sing along if you got friends over. It's not very often you hear "And all the people on the planet. From Pacific to Atlantic, are all getting along here most uncomfortably. Provided that you're a robot or circuit, getting it done is only done electrically?". So after the bad yet fun opening theme to sing along too is over, you find out that "pornification" has been outlaw in the futuristic time of 2000. For something that takes place in the future I'm surprise at the lack of advance technology. Upon the first acting you witness in the movie you could tell that no one will even put an average performance. So why is "pornification" (they use this word allot so get used to it) ban? According to the mayor it's "Dirty, dirty, dirty, dirt, dirt, dirt, dirt" and keeps going like that for about a good five seconds. So after laughing at that hilarious scene you see Cindy doing housework who supposed be our Cinderella of movie, but for some reason she keeps wearing clothes that makes her look homeless. As the movie progress you'll notice these women are. There's a word for these kinds of women and it starts with a s, but I can't seem to remember it at the moment. I'm sure I'll remember it later. There is a pointless musical number and we then see Cindy going to an ugly looking forest and reads Cinderella. Does this have any meaning to the story; well it spoils the classic ending and reminds you're watching something that barely resembles it. Instead of a godmother, we get a godfather who is very perverted and for some reason needed to beam a cylinder for a cylinder, a door, and then himself. Yes it would've been faster if the godfather simply teleported himself with his magic wand which you see him do often so him having a spaceship is idiotic. When Cindy asks her godfather what is love, he answers with "Love is.. take off your clothes, and rub against someone". Which he then proceed to give her an example of love by turning two rabbits into people with rabbit masks and regular clothing, and yes he sings about love according to this movie. This musical number has the worst lyrics in the whole movie, which includes "As even the coldest eskimo, living in the northern part of pole. Can find refuge in a hole" and a few seconds later says "We all need love. From me and you to King Kong". So if you're crazy enough to keep watching this you'll notice that the only topic people talk about in this movie is sex. Even the robot has his strange country/pop musical number about it. Even when a robot sings about sex it sounds perverted, I don't I'll feel the same saying "Plug it in" ever again. Now apparently in the future there's a disease called "The Horny", I don't even have to try that hard to make fun of this movie. In case you're wondering there's a plan B to cure this disease, and yes it's exactly what you think. The king decide to throw a party, but there's more accurate word these kind of gathering. I know it starts with an o, but I just can't seem to remember it either. Moving on, Cindy godfather gives her fancy clothing, I use that term very, very, very loosely. Besides her clothes, there nothing different about her appearance and yet her sisters are clueless enough not know it's her. So instead of fitting a glass slipper on women, how does our man find Cindy? By performing "love" to every single woman he sees in campy montage style to make sure it's Cindy. He even has the nerve to make love to Cindy two sisters before finding her and they end together by the end of the movie, wow is this insulting to women everywhere. Eventually love is allowed in the future since Cindy gave the king a, do I even to need explain what she does. Cinderella 2000 could best describe as the weirdest porn film that borrows from Cinderella. If you like stupid movie and making fun of them with a group of friends this is something you could checkout. If you don't, it's a very idiotic movie that's insulting to women.
Caesar Mendez
Super Reviewer
Despite the whole sci fi musical porn bandwagon everyone's been jumpin on for the past ten years finally slowing down, Hollywood decided we needed another! Cinderella's a great story, but you gotta ask yourself: does it really need 1,999 sequels? No. Frankly I'm disappointed most at the flagrant ignorance they sport by not releasing this film in 7D; It doesn't capture at all the string theory motifs that so dominate the original. I mean, at least 4D smell o vision. Incredibly disappointing.
Scott Reed
Discussion Forum
Discuss Cinderella 2000 on our Movie forum!
News & Features