Cinderella III: A Twist in Time
(2007)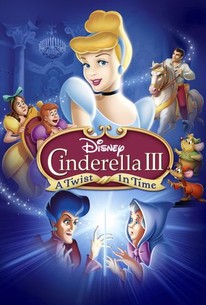 Cinderella III: A Twist in Time Photos
Movie Info
Experience a compelling twist on the familiar fairy tale in an animated Disney sequel that explores just what may have happened had the mythical glass slipper not fit. Cinderella's wicked stepmother has stolen the Fairy Godmother's magic wand, and now she's determined to turn back the hands of time. Now, in order to break the evil spell, the frightened Cinderella will have to find her beloved Prince Charming before her time runs out. Gus, Jaq, and all of the characters who made the original Cinderella a beloved classic return in an enchanting animated sequel filled with show-stopping musical numbers, nail-biting suspense, and magical wonders for the entire family.
Rating:
G
Genre:
,
Directed By:
Written By:
In Theaters:
On DVD:
Runtime:
Studio:
Walt Disney Productions
News & Interviews for Cinderella III: A Twist in Time
Critic Reviews for Cinderella III: A Twist in Time
Audience Reviews for Cinderella III: A Twist in Time
½
This is a really strange thing to say, but this second Cinderella sequel is the absolute best straight to video Disney film ever made, and actually has better characters and premise than the original. Taking the bland fairytale characters of the first film, the sequel transports us to an alternate reality through supernatural means. The stepmother, still calculating in her villainy, gets a hold of the magic wand and wreaks havoc with the original fairy tale. Poking fun at its predecessor, this send-up has adventure, gives the former princess some agency, and makes the step-sister, Anastasia, into a complex, flesh out side character. The dialogue is fresh, there's actually some really great jokes peppered throughout, and the action is always quick and fun. This film is even dark in many places, something that hasn't been prevalent in Disney films since the release of "Pinocchio" seventy years prior. If you want your kids to watch an intelligent, thoughtful, woman friendly Disney film, than this sequel is right for you.
Spencer S.
Super Reviewer
Better than it has any real right to be, Cinderella III is a true movie made for the small screen, not episodes of a defunct television show strung together or full of sub-par animation. A Twist in Time may be obvious at some points and become downright grating in the last ten minutes, but there's always something (even mildly) entertaining going on. Am I saying it's great? No. It's enjoyable, right down to the same smooth animation style-lack of fine detail in the human characters-from the original movie.
Jason Vargo
Super Reviewer
You guys have to admit, this is one of the few better Disney sequels, even compared to others, & it is a helluva lot better than Cinderella II. Animation: The animation was beautifully done as it should be, & the characters remained the same. Characters: The stepmother was as evil, & as she was in the first two films, but lacks the scariness she had in the very first one. Cinderella was the fighter as she was, & the rest of the characters were they're usual. Anastasia, became much more fleshed out & likable. The problem was how they removed the rest of the mice & birds. Plot/Story: It works perfectly for the movie. The idea of Cinderella having to fight to get back things the way they were because of the cruel, selfishness of her stepmother makes the movie worthy. Music/Songs: The songs are terrible & forgettable. The score fits nicely, but the songs in here, I was wondering if the directors &/or songwriters were even thinking while the singers sang them. I wish Alan Menken would have written the songs. So in final summation, it's not as good as the original (obviously), but its written very well compared to other straight to DVD Disney sequels.
Frisby 2007
Super Reviewer
Cinderella III: A Twist in Time Quotes
| | |
| --- | --- |
| Stepmother: | "So this is how Cinderella did it? What delicious irony! Do you realise what these means, girls?!" |
| Stepmother: | So this is how Cinderella did it? What delicious irony! Do you realize what these means girls? |
| Drizella: | "Yes! No more laundry!" |
| Drizella: | Yes! No more laundry! |
| Stepmother: | *sigh* |
| | |
| --- | --- |
| Stepmother: | POWER, RICHES, REVENGE!!! |
| Stepmother: | Power, riches, revenge! |
| | |
| --- | --- |
| Anastasia: | Mother! Our troubles are over! |
| Anastasia: | This is the answer to all our problems! |
| Stepmother: | A stick? |
Discussion Forum
Discuss Cinderella III: A Twist in Time on our Movie forum!