Cinderfella
(1960)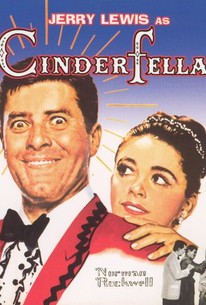 AUDIENCE SCORE
Critic Consensus: No consensus yet.
Movie Info
Jerry Lewis stars in this comedy about a male Cinderella going to the royal ball. He falls for the princess (Anna Maria Alberghetti) while dancing to the music of the Count Basie Orchestra. His fairy godfather (Ed Wynn) warns Lewis he must be home before midnight when the spell is broken.
Critic Reviews for Cinderfella
All Critics (4) | Fresh (3) | Rotten (1) | DVD (1)
It's a dreadful comedy that's only for diehard fans, critic apologists for such lame slapstick laced with sentimentality and the French.

Ozus' World Movie Reviews
Fun Jerry Lewis vehicle, one of his best.

Interesting, uneven fantasy marred by Lewis' inability to edit himself.

Mountain Xpress (Asheville, NC)
Audience Reviews for Cinderfella
½
The most enjoyable Jerry Lewis film I've seen, "Cinderfella" contained the expected goofy slapstick as previous classics as "The Errand Boy" and "The Nutty Professor" but this film differs because of its inclusion of some of the sweetest down-to-earth moments which break up the laughs in a very satisfying manner. Essentially, the film is the classic fairy tale Cinderella but told in the 1960's, with a gender-switched lead protagonist, who is not just overworked, but a complete moron who must perform every chore imaginable in his evil step-mother's Beverly-Hill-ish estate. Cinderfella is a very likable idiot, not just because he is Jerry Lewis, but because one automatically feels sorry for him due to the frequent comical abuse he puts up with. Fella sleeps on a bare springboard without a mattress, in a room loaded with junk; he eats soup and saltine crackers at the far end of a 100-foot-long table, while the rest of the family devours prime rib; the furniture he sits on is covered in plastic wrap. Etc, etc... There is this extremely humorous scene halfway through the film where Fella, in the middle of his humble dinner, becomes pestered non-stop by the Wicked Stepmother (Judith Anderson) and Fella's two evil stepbrothers Maximillian (Henry Silva) and Rupert (Robert Hutton,) by performing the most ludicrous-ly simple tasks, such as lighting a cigarette or moving a dish 5 inches closer; this sequence greatly demonstrates Jerry Lewis' undying level of energy, as well as his ability to make audiences laugh without speech, (as this sequence contains very little dialogue.) The film also stars Ed Wynn as Fella's fairy godfather, (which is as odd as it sounds,) and the beautiful Anna Maria Alberghetti as... Princess Charming. The final sequence in the film with Lewis and Alberghetti together is particularly sweet, where he tries to convince her that they are not meant to be together due to the fact that "I'm a people and you're a person." This film is a joy to watch, but it does have a few faults that will prevent it from receiving a perfect 5-star rating. First, one can tell that this film was made on a tight budget, so the entire picture had poor production values; so many jokes could have been greatly heightened with better filming and scene composition. One good example is the breakfast scene, where Fella accidentally squeezes orange juice all over the counter; due to the poor camera angle, one hardly sees the mess he makes. In addition to cheap filming, there are some spots of dialogue between Fella and his Fairly Godfather that are a tad sexist, which seem to bash women for no apparent reason. Apart from these two aspects, "Cinderella" is a fun charming little film.
Kenneth Elliott
½
Jerry Lewis is really funny in this most peculiar version of Cinderella. The songs aren't really notable and were a bit of a letdown, but it is an otherwise pleasantly goofy movie. (First and only viewing - 7/29/2014)
Adam R
½
Several good gags as Jerry meets an Audrey Hepburn double (Tony awardee Anna Marie Alberghetti) and puts a smile on her lips, after some encouragement from the legendary Ed Wynn. Ends with a quaint fable.
Christopher Bergan
Cinderfella Quotes
There are no approved quotes yet for this movie.
Discussion Forum
Discuss Cinderfella on our Movie forum!