Cinévardaphoto
(2005)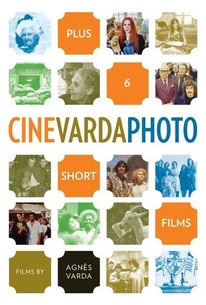 Movie Info
Three short films touching on the art and emotional resonance of photography from director Agnès Varda are collected in this compilation feature. Cinévardaphoto features one new film, Ydessa, the Bears and Etc..., a profile of Ydessa Hendeles, a Canadian photo collector who has curated exhibitions from her large archive of snapshots of people with their teddy bears, which she believes reveal a great deal about the times and circumstances of their creation. Two earlier Varda shorts also appear: Ulysse offers a close examination of a photo taken by Varda in Egypt in 1954, while Salut les Cubains is an animated film created from 1,500 photographs Varda took while visiting Cuba in 1963, in which the static images take on joyous life.
Rating:
NR
Genre:
, , ,
Directed By:
Written By:
In Theaters:
On DVD:
Runtime:
Critic Reviews for Cinévardaphoto
Audience Reviews for Cinévardaphoto
Varda has emerged as a great documentary film maker. Here the subject is photography. Of particular note is her lok at Ydessa Hendeles and her collection of photos of teddy bears. A surprising appearance by a former dictator is an unnerving surprise.
John Ballantine
Super Reviewer
My French teacher in high school, who by the way eerily resembled Audrey Hepburn at her peak, once told us that as we grow older we would only get more conservative. I'm now 36 which I think is how old she was when she told us that. I'm not getting any more conservative by the way. Which brings me to... [color=green]"Sunset Story" is a funny and touching documentary about two friends in a retirement home named Lucille Alpert and Irja Lloyd. The retirement home, Sunset Hall, is specially reserved for retirees of a progressive bent and Lloyd and Alpert continue to go to protests for various causes and discuss various issues. They are an inspiration to those of us of a younger generation that you can never be to old to be politcally active.(This documentary got me thinking of John Sayles' short story "The Anarchist's Convention.")[/color] [color=#008000][/color] [color=navy][/color] [color=navy]You know that old saying about a photograph equaling a thousand words..."Cinevardaphoto" is a triptych of short documentaries by Agnes Varda, each focusing on photography. [/color] [color=navy][/color] [color=navy]"Ydessa, the bears and etc..."(2004) is about an exhibit of photos of teddy bears in Munich, which starts innocent and gets rather more disturbing as we proceed through the exhibit. It is also an interesting look at the way people proceed through an art exhibit. What they see and what they do not see, is quite important and thought provoking.[/color] [color=navy][/color] [color=navy]"Ulysse"(1982) is about a photograph taken in 1954 containing a naked man, a naked boy and a naked dead goat. And it reexamines the memories of the people involved and what they were doing 28 years later. Well, the dead goat is not doing that well...[/color] [color=navy][/color] [color=navy]"Salut les Cubains"(1963) is a photomontage of photographs taken from a recent visit to Cuba in the aftermath of the Cuban revolution. In it we get a history lesson and a rare view into the country and the Cuban people as it was then.[/color] [color=navy][/color] [color=navy]All three documentaries taken together are endlessly fascinating. They are shown in the chronological order of the photographs taken - The teddy bear photographs are taken mostly before World War II, Ulysse's photograph was taken in 1954 and the Cuban photographs were taken in 1963. [/color]
½
[font=Garamond](Theatre) (First Viewing, 2nd Varda film)[/font] [font=Garamond] [/font] [font=Garamond][/font] [font=Garamond]Varda's latest, and it's terrific. It consists of three short films spanning Varda's entire career: [b]Salut les cubains![/b] (1963), her Cesar winning short [b]Ulysse[/b] (1982), and [b]Ydessa, les ours et etc.[/b] ([b]Ydessa, The Bears, and Etc...[/b]) (2004); their content is unreleated, but the themes and ideas loosely bind them together. The sub-title "When Photos Trigger Films" is apt- all three films are meditations on the image, one's subjective take on an image, and how the past can alter perceptions of images. [b]Ydessa...[/b], is about a (rather eccentric) woman behind a museum exhibition of vintage photographs depicting Teddy Bears, and it turns out to be a fascinating film in Varda's capable hands. [b]Cubains![/b] displays some beautiful photography (Varda is a superb photographer) and utilizes a stunning technique of using stills to create a disjointed moving image that works particularly well during several sequences of Cuban dancing.[/font] [font=Garamond] [/font] [font=Garamond]But the real stand-out of the triad is [b]Ulysse[/b], which explores a photograph Varda took in the mid 1950's of a dead goat and two nude figures on a rocky beach (which has to be one of the finest photographs I have ever come across) simply titled "Ulysse." 28 years after taking it, Varda catches up with the two models, explores their differing memories and opinions of the photo, and focuses on the connection the image has with film. It's a wonderful short- probably one of the best I have ever had the pleasure to view.[/font] [font=Garamond] [/font] [font=Garamond]Basically, the three films can be taken and appreciated individually, but together they have a cumulative effect that is staggering, though-provoking, and surprisingly effective. Highly recommended.[/font]
Jesse Last
Cinévardaphoto Quotes
There are no approved quotes yet for this movie.