Circle of Eight
(2009)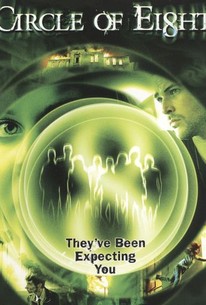 AUDIENCE SCORE
Critic Consensus: No consensus yet.
Movie Info
When Los Angeles newcomer Jessica (Austin Highsmith) moves into a historic downtown apartment building populated by amiable, twenty-something bohemians, she quickly discovers that her new home harbors its fair share of dark secrets. The Dante may not be the most posh apartment complex in town, but what it lacks in style it makes up for in local color. When Jessica moves in, overprotective building manager Ed (John Bishop) offers some helpful tips on getting comfortable and her new neighbors seem unusually accommodating. But why does that camcorder-obsessed creep Randal (DJ Qualls) always have his lens aimed in her direction, and what's the deal with secretive artist Evan (Ryan Doom). Later, the tenants at the Dante begin to die off in the most gruesome of ways, prompting Jessica on a frantic mission to solve the mystery of the eerie building before she too falls prey to its malevolent curse.
Critic Reviews for Circle of Eight
Audience Reviews for Circle of Eight
½
I heard of this awhile ago via MySpace I think they were doing some test run on there for it, it looked sort of like a horror movie but it's VERY mild if you want to even call it that. It's more of a suspense mystery thriller. That really they should have left it online! I think around 30 minutes into the movie I knew what the ending was going to, more or less be. Our lead character Jessica moves into a large building (which looks like an old hotel or asylum I have seen on one of those haunted places shows) and meets a few of a tenant that have a tendency to just invite themselves in, without knocking or otherwise. One of them a pregnant woman who is just way too perky & pushy has got to be the MOST annoying of the bunch unless the one with the camera always in your face is. Suspenseful yes but predictable.. however if you figure out what it is... still suspenseful D+
Kym (c my community profile) Ragarsson
Super Reviewer
Circle of Eight Quotes
There are no approved quotes yet for this movie.